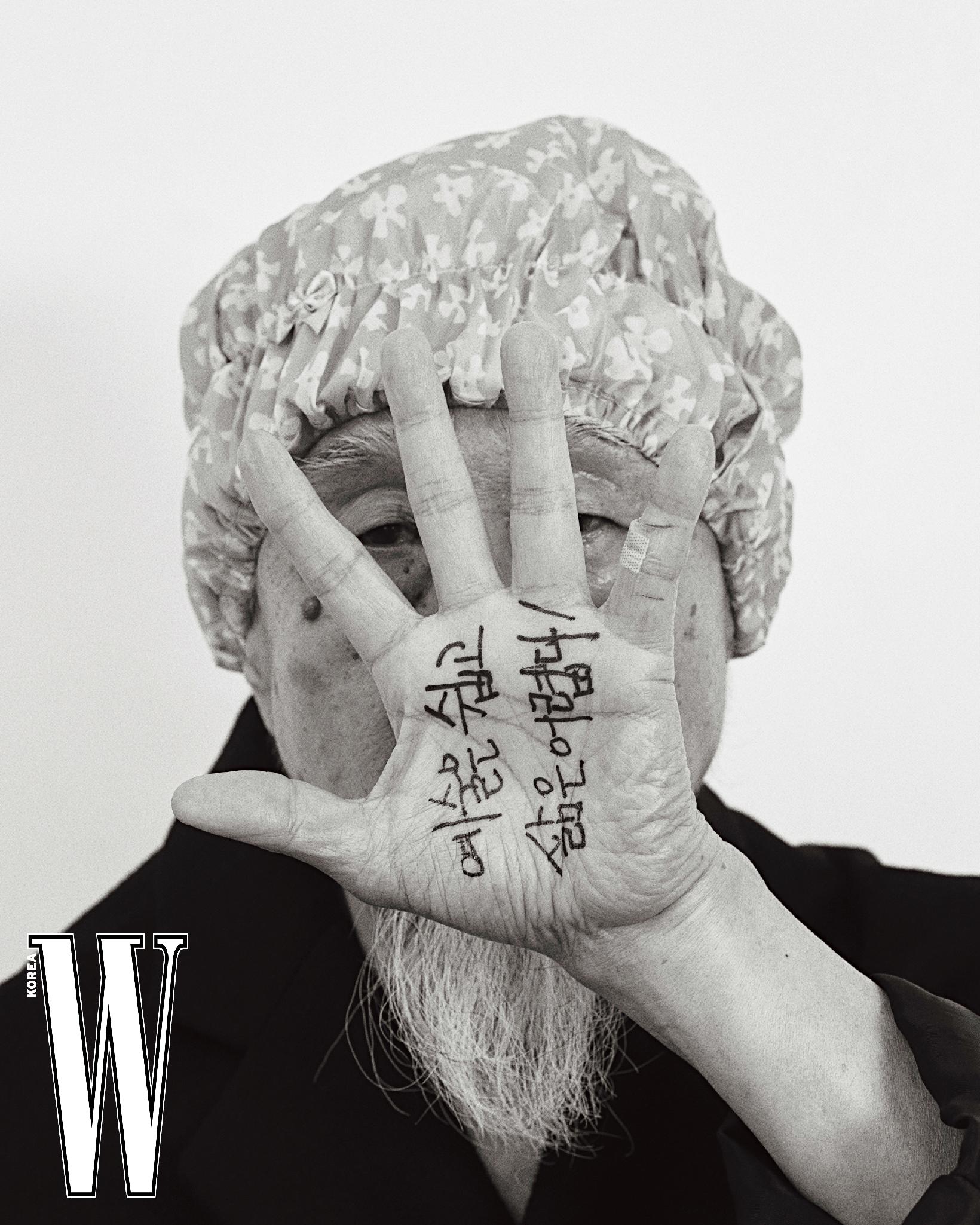 The September issue of W Magazine features an interview and photo shoots in collaboration with LOEWE and Sung Neung Kyung. On a rainy day in August in Gangnam, the artist met with editors Shin Kim and Yeoul Jeon to demonstrate his "Reading Newspapers" and fan-burning performances and discuss his profound artistic world. After the publication of the September issue, the artist once again met with the W team at the gallery to showcase a "Reading Magazine" performance, cutting out the pages of his own portrait pages. The work is currently displayed on the second floor of "Botched art: the meanderings of Sung Neung Kyung" at Gallery Hyundai.
"[Back in the 1970s], simply reading a newspaper and cutting it created tension among the audience. The political situation was severe at the time, so people would whisper, 'Is he going to get arrested?' from behind. In a sense, 'Reading Newspapers' was a work designed to create a void by cutting articles and words. I wanted to imply the disappeared meaning and the potentiality created by the void (…) to testify to art not by its material, but rather by destroying the material (…) The more you ruin art, the greater artistry you achieve. So, to the viewers who come to the exhibition, I would like to say: don't expect something too solemn, eternal, or profound. Just come and witness that what has been ruined is more beautiful. That's all." - Sung Neung Kyung
Full Interview on the W magazine website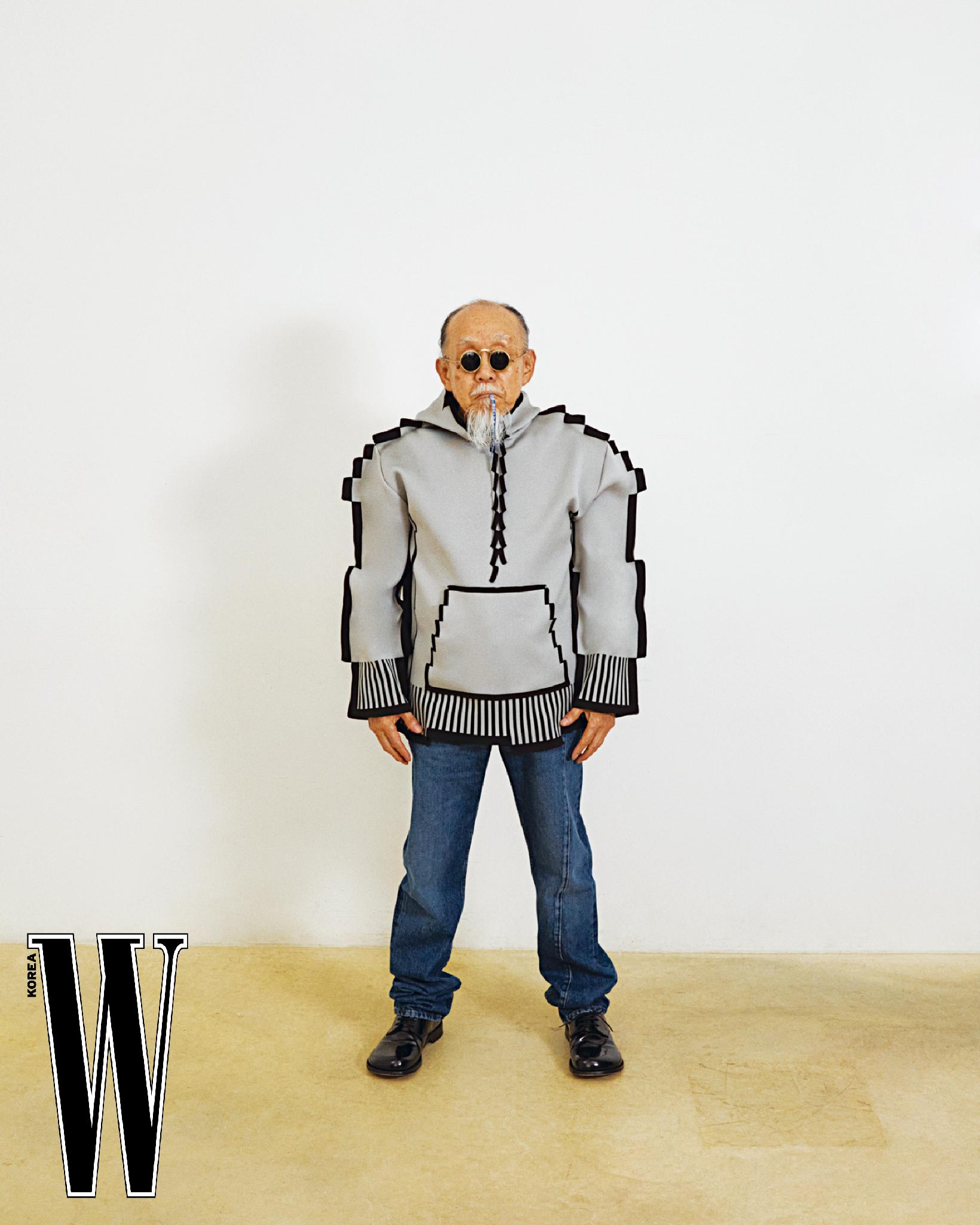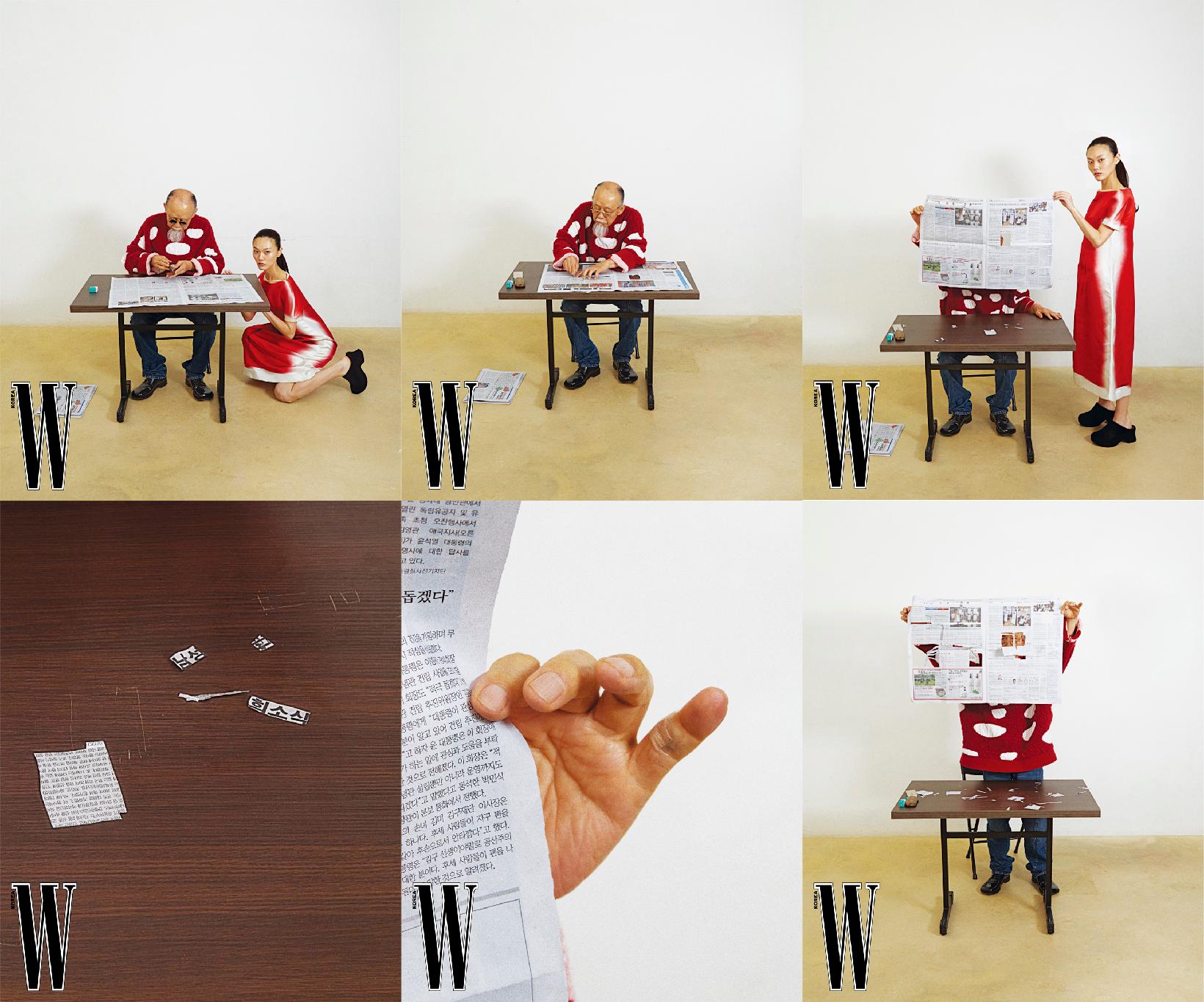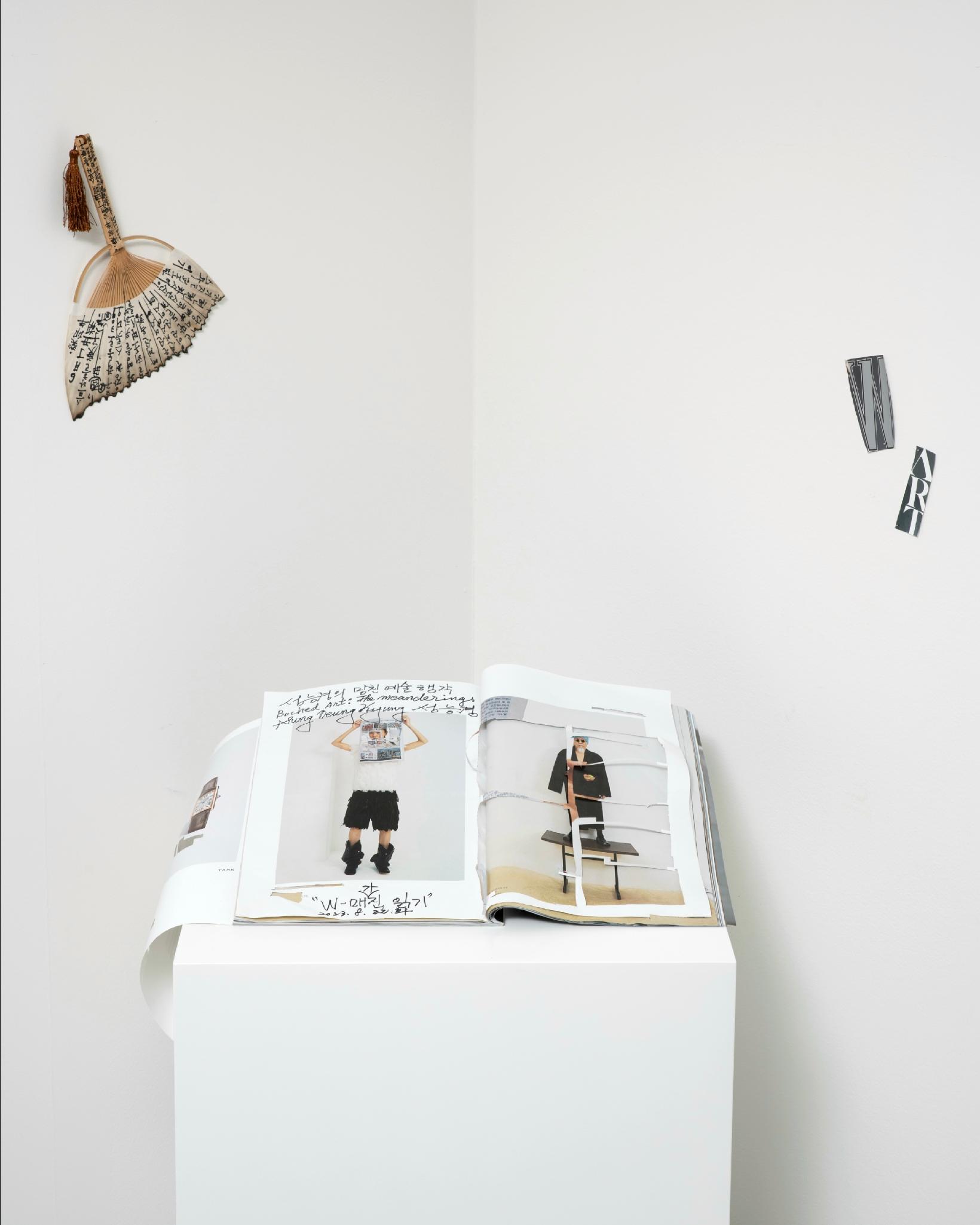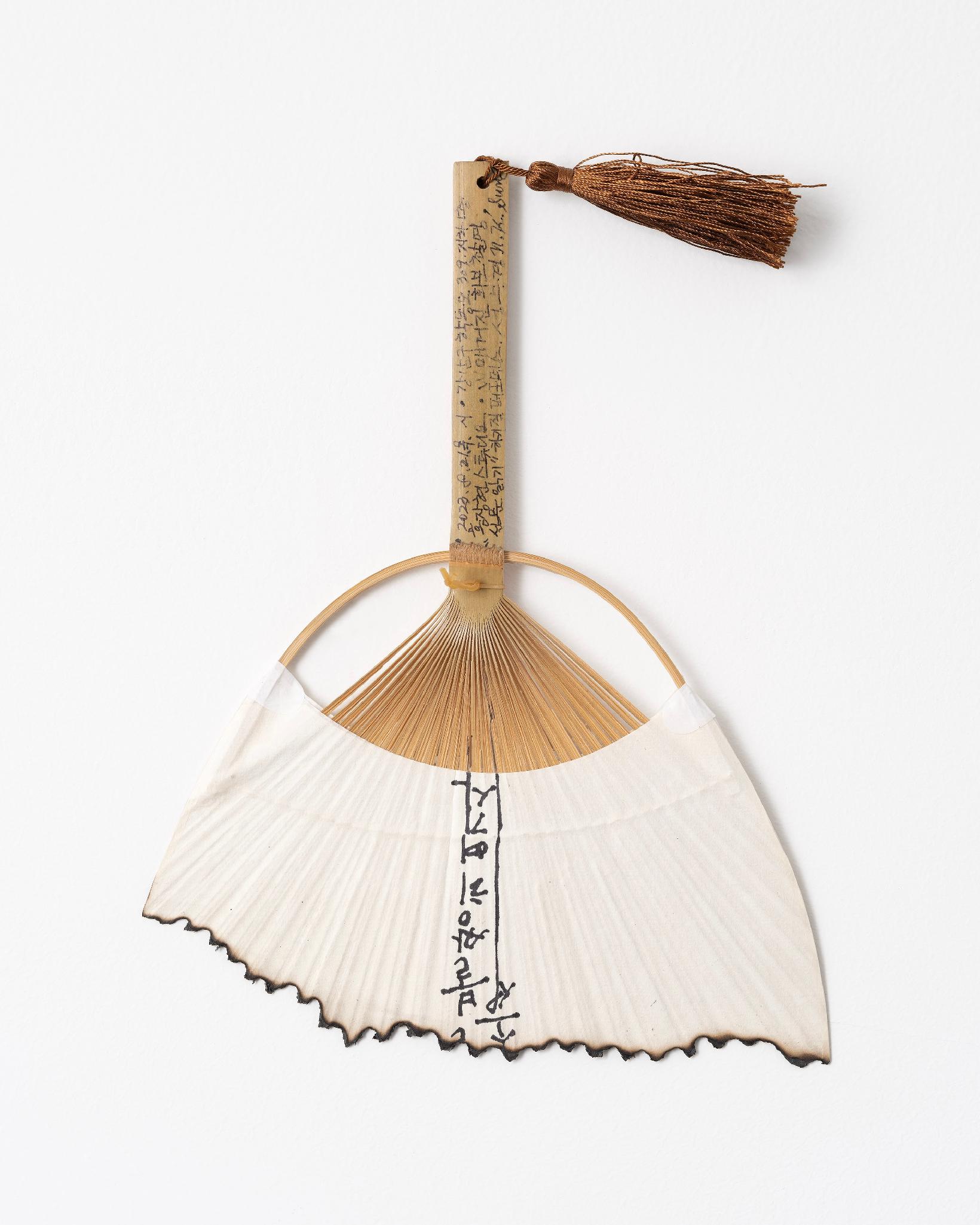 ---
성능경 작가가 〈W〉 매거진 9월호에서 로에베(LOEWE)와 함께 했다. 지난 8월 장마가 한창이던 날, 강남의 스튜디오에서 성능경과 〈W〉의 김신, 전여울 에디터가 만나 〈신문읽기〉, 축문 부채 퍼포먼스를 선보이고 심도 있는 작품 세계에 대해 이야기 나눴다. 9월호 발간 후 작가는 《성능경의 망친 예술 행각》 전시장에서 또 한번 〈W〉 매거진 팀과 만나, 본인의 화보 페이지로 〈잡지읽기〉 퍼포먼스를 선보였다. 〈잡지읽기〉 작품은 전시장 2층에서 만나볼 수 있다.
"(1970년대) 그 당시엔 신문을 읽고 오리는 행위만으로 관객에게 긴장감을 줬어요. 정치적 상황이 엄혹했기에 사람들은 뒤에서 '저 사람 잡혀가는 것 아니야?'라며 수군거렸죠. 말하자면 '신문 읽기'는 기사를, 언어를 오림으로써 여백을 만드는 작업이었어요. 여백이 만든 사라진 의미, 잠재태가 무엇인지를 자꾸만 제시하려 했던 거죠 (…) 미술을 물질로 증언하려는 것이 아니라, 물질을 거세한 후 예술을 증언하려는 것. (…) 망치면 망칠수록 예술성은 높아져요. 그래서 전시장을 찾을 관객에게 말하고 싶군요. 너무 엄숙한 것, 영원한 것, 의미 깊은 것을 기대하지 마시라. 단, 와서 망친 것이 더 아름답다는 걸 얻어 가시라. 그것 뿐이에요." – 성능경