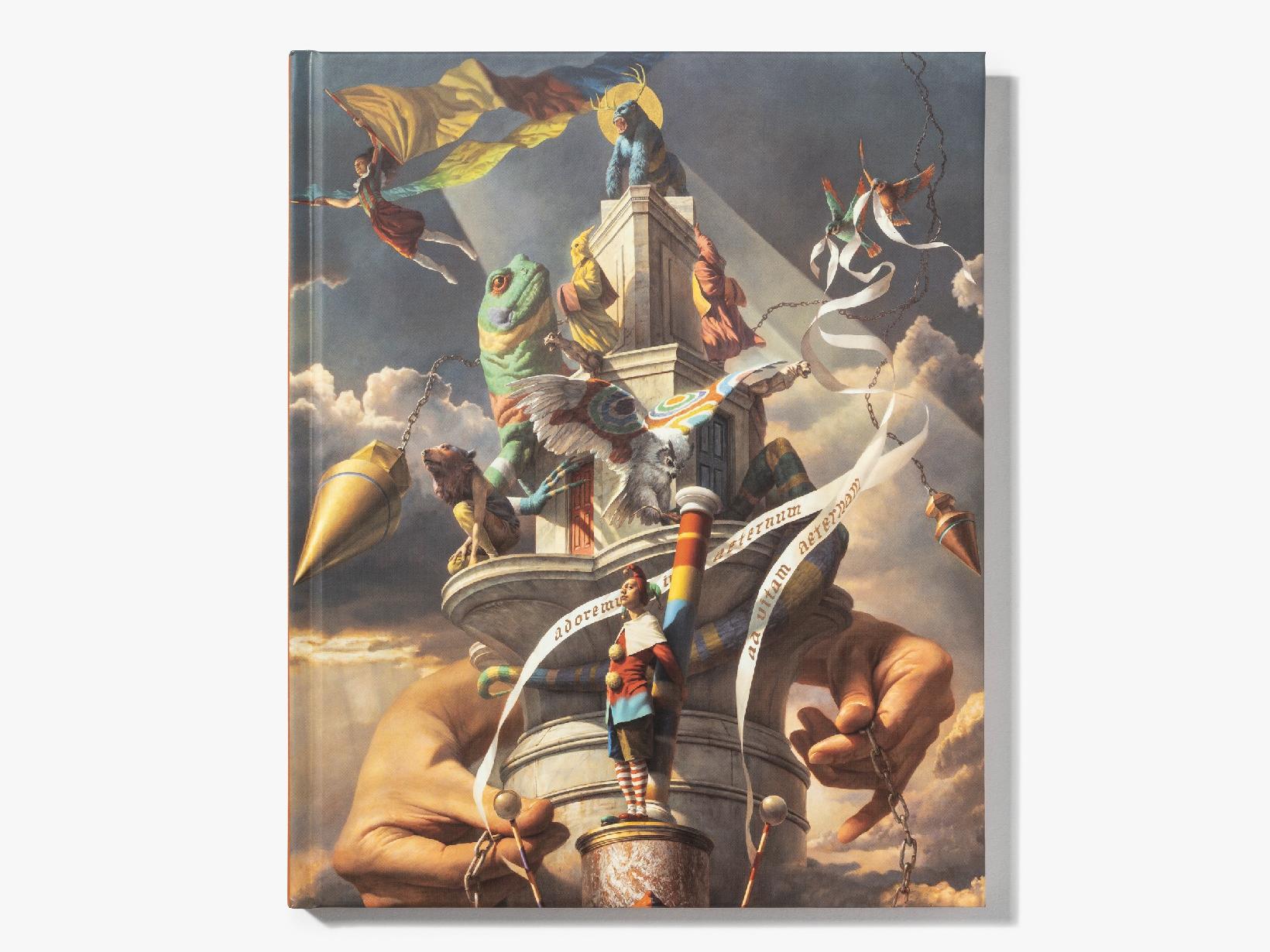 "As an artist, Park Minjoon focuses on the things that all of us experience in our emotions and relationships: feelings of pain, pleasure, desire, and more. He looks to the history of mankind for their archetypes, and builds his own new narratives by applying the forms from the Renaissance and Baroque eras during the most prosperous time of the civilization. Relating stories for each character based on universal aspects of human nature, the images go beyond the level of the image, operating with the texts as signs and symbols." – Ki Hey-kyung, curator / art historian
An exhibition catalogue for X, Park Minjoon's 10th solo exhibition is now published.
The catalogue presents plates of more than 40 paintings and sculptures. It also includes excerpts from Park's two novels Rappore Circus and Two Flags, as well as monologues of the novels' main characters, yielding various perspectives on the relationship between image and text which forms the core of Park Minjoon's oeuvre. Also featured is an essay by curator Ki Hey-kyung, "X: Creating Myths for Our Era through 'Nothing' Stories," which analyzes the artist's unique oeuvre that conveys the story around us through his own mythical characters.
Publication Details
Publisher : Gallery Hyundai
Publication Date : December, 2022
Artist : Park Minjoon
Essays : Ki Hey-kyung
Binding : Hardcover
Dimensions : 220 x 275 mm
Language : English, Korean
ISBN: 978-89-6736-116-7
Retail price: KRW 40,000
Inquiry: +82 2-2287-3500, mail@galleryhyundai.com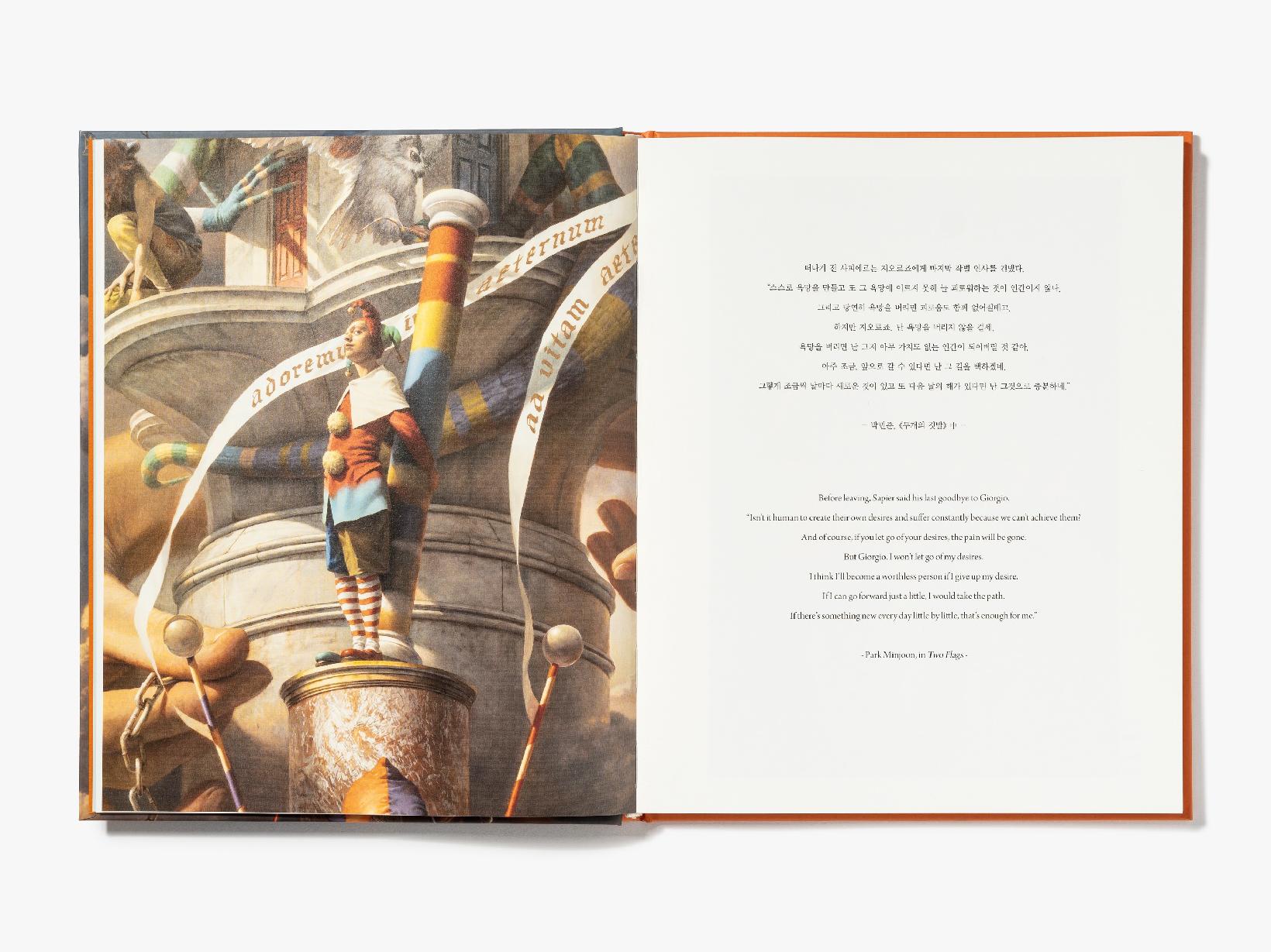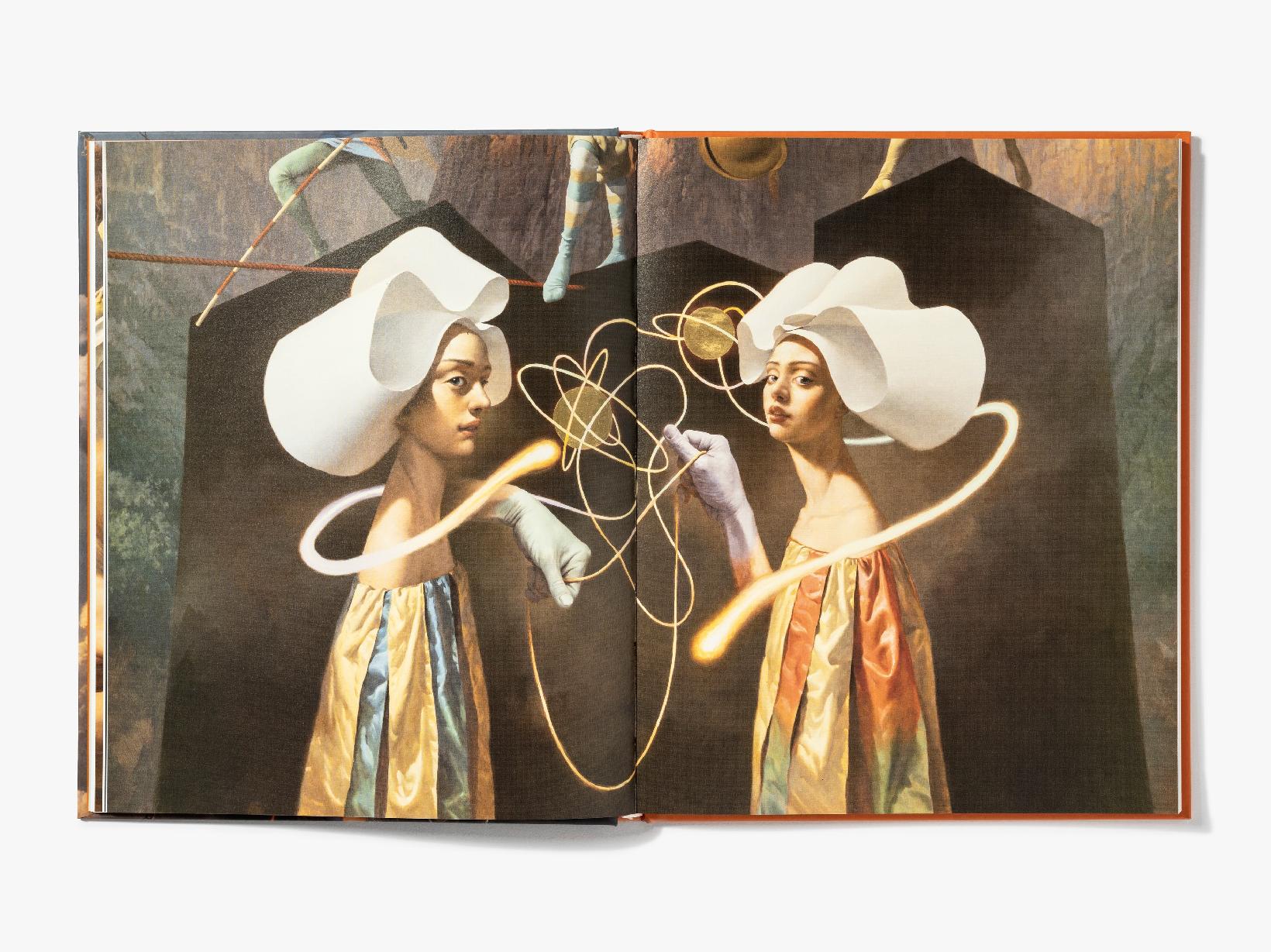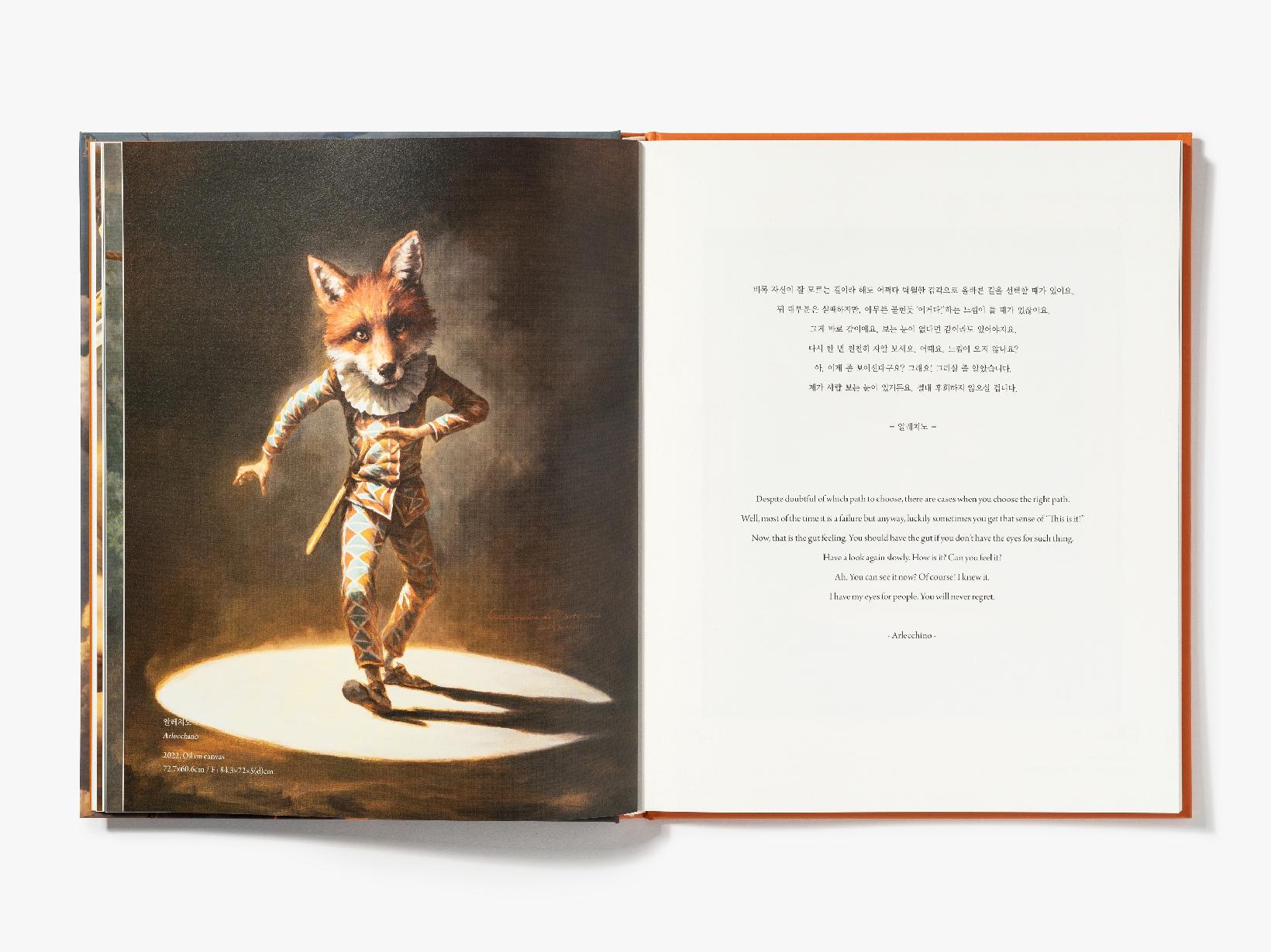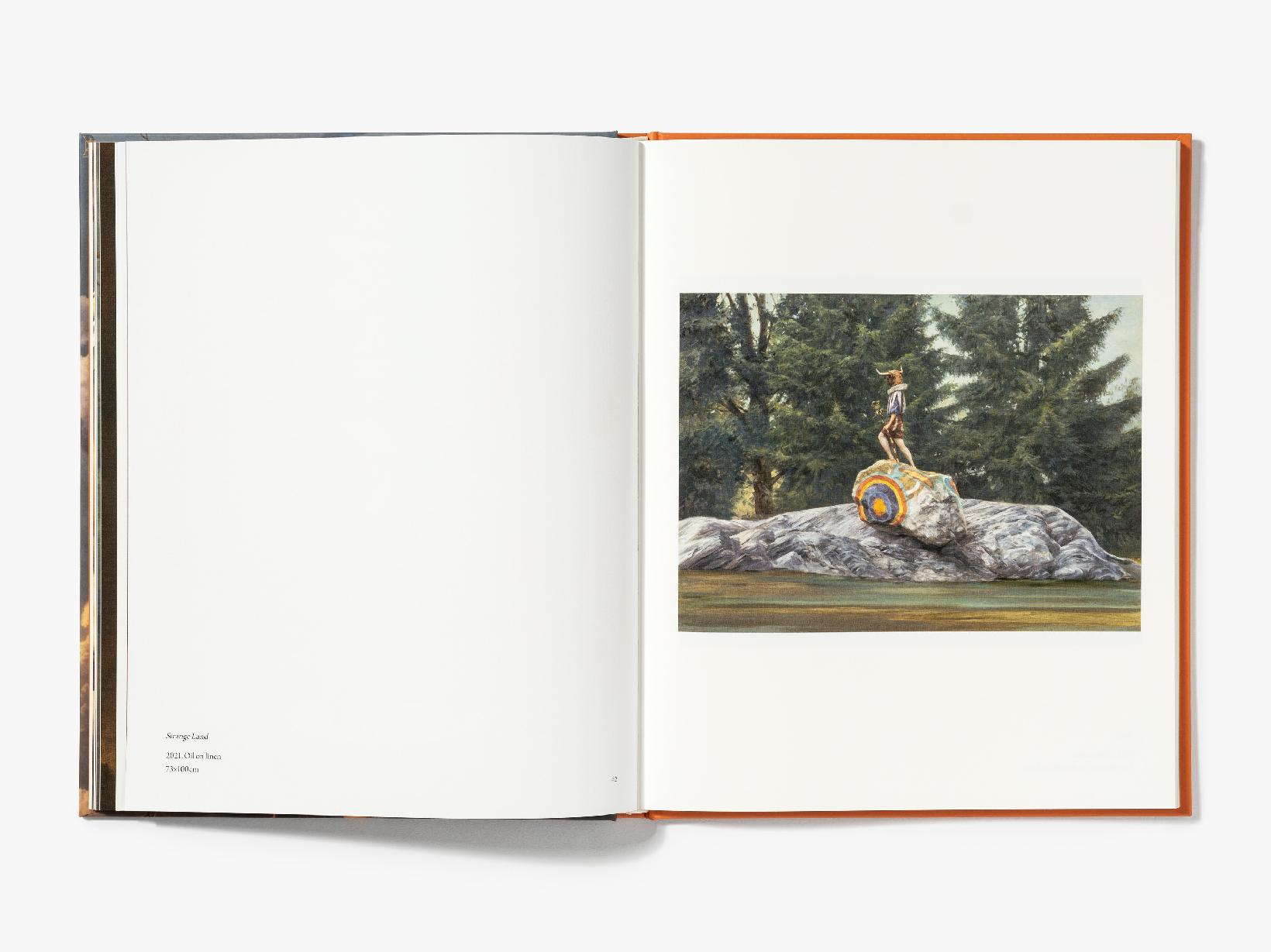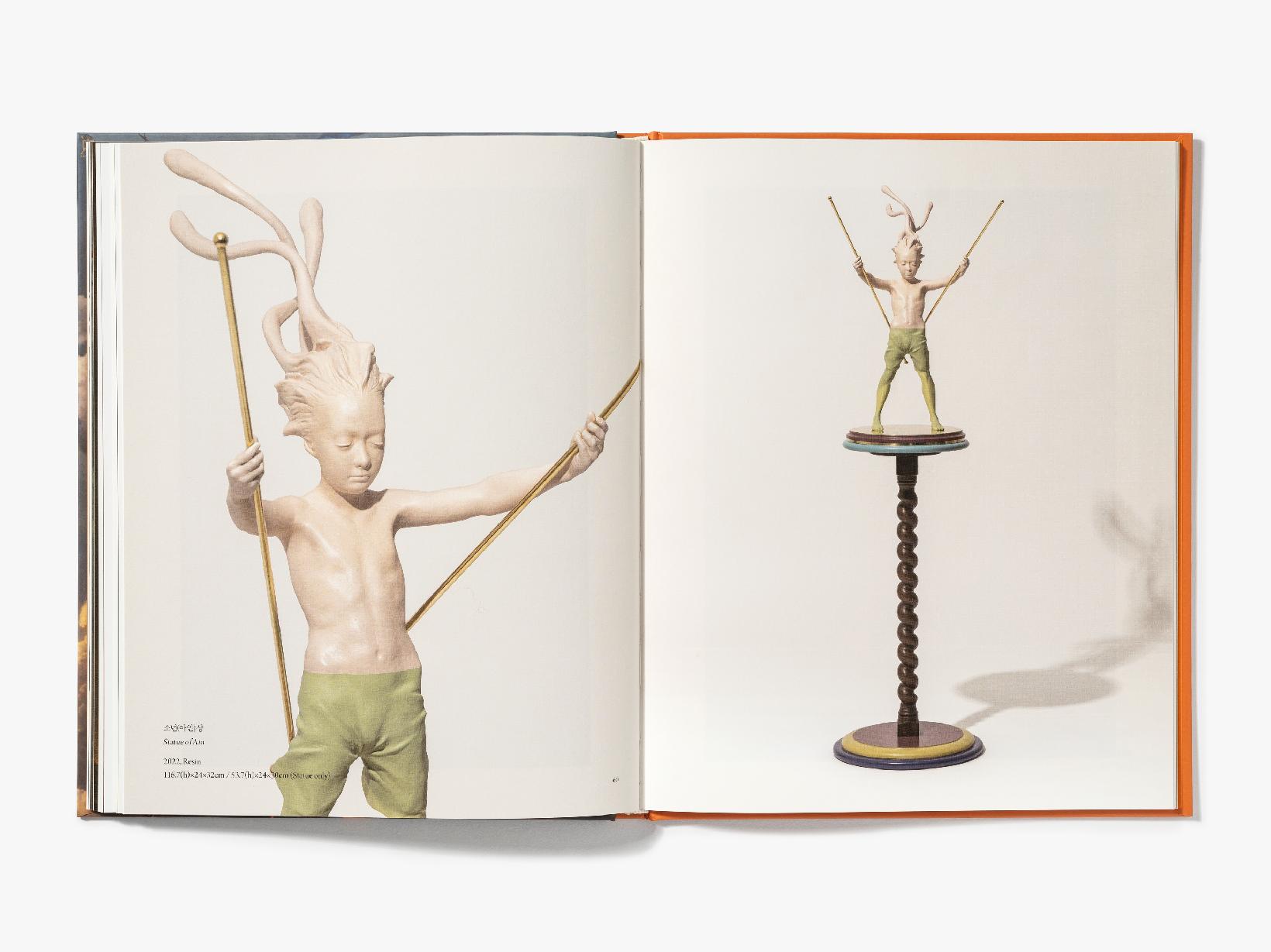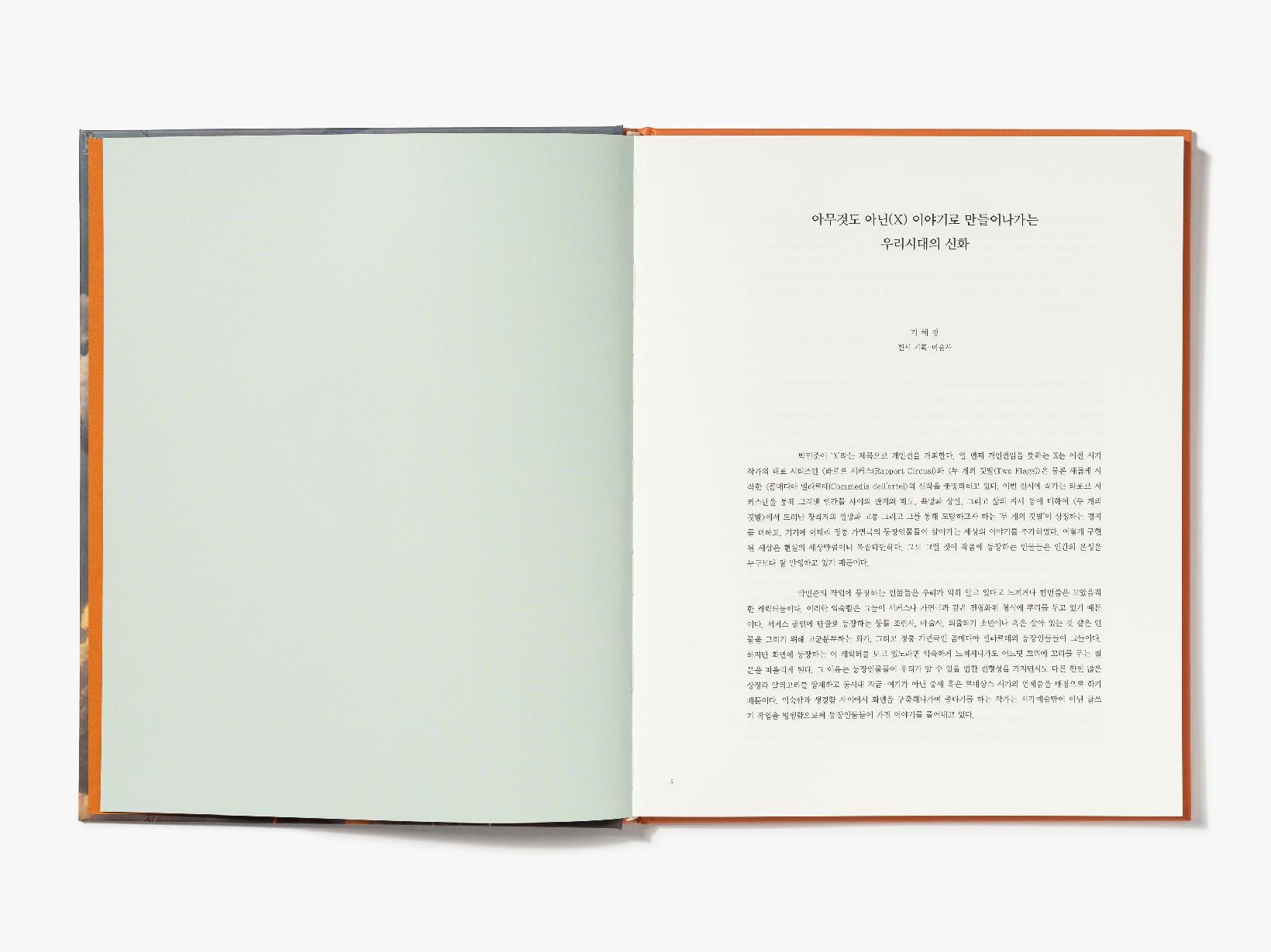 ---
"누구나 살면서 경험하게 되는 감정과 관계 속에서 겪게 되는 고통과 즐거움, 욕망 등을 다루는 박민준은 인류의 역사에서 그 원형상을 구하고, 인류 문화를 가장 꽃피웠던 르네상스나 바로크 시대의 형식을 차용하여 그만의 새로운 내러티브를 더해나간다. 보편적인 인간의 본성을 화두로 등장인물 각자의 스토리텔링을 통해 구현되는 이미지는 단순한 이미지의 차원을 넘어 텍스트와 함께 기호와 상징으로 작동한다. 이는 오랜 전통을 갖는 서커스나 콤메디아 델라르테의 등장인물들의 전형성을 전유하여 거기에 새로운 내러티브를 결합함으로써 기존의 등장인물들이 가지고 있는 특성에 작가가 부여한 새로운 특성이 중 첩되면서 가능하게 된 구조이다."
– 기혜경, 전시기획·미술사
박민준 작가의 10번째 개인전 《X》를 기념한 도록이 발간되었다.
도록에는 세세한 필법과 밀도 높은 작업 과정을 통해 완성된 회화 및 조각 40여 점과 작가가 집필한 두 권의 소설책 『라포르 서커스』와 『두 개의 깃발』, 그리고 작품 속 캐릭터에 맞춰 작가가 쓴 대사를 함께 공개해, 박민준 작품 세계의 중심축을 이루는 '이미지'와 '텍스트'의 관계를 다각도로 살펴볼 수 있다. 또한, 기혜경 관장이 쓴 평론글 「아무 것도 아닌(X) 이야기로 만들어나가는 우리시대의 신화」에서는 박민준이 창조한 신화적 서사를 새로운 캐릭터를 통해 우리 주변의 이야기를 전하는 독특한 작가의 작품세계에 대해 분석한다.
도서 정보
출판사 : 갤러리현대
출판일자: 2022년 12월
작가: 박민준
에세이: 기혜경
제본: 하드커버
판형 : 215 x 267 mm
언어 : 영어, 한국어
ISBN: 978-89-6736-116-7
판매가: 40,000원
문의: 02-2287-3500, mail@galleryhyundai.com