*글 하단의 '한국어 텍스트 다운로드'를 클릭하면 원문을 확인할 수 있습니다.
The paintings of Chung Sung-Hwa are borne through an endless process of exposing and covering the fissures across his canvas. The harmonious balance of dappled blues that fill the canvas of Untitled 86-1-7 calls us into another world of awe and mystery.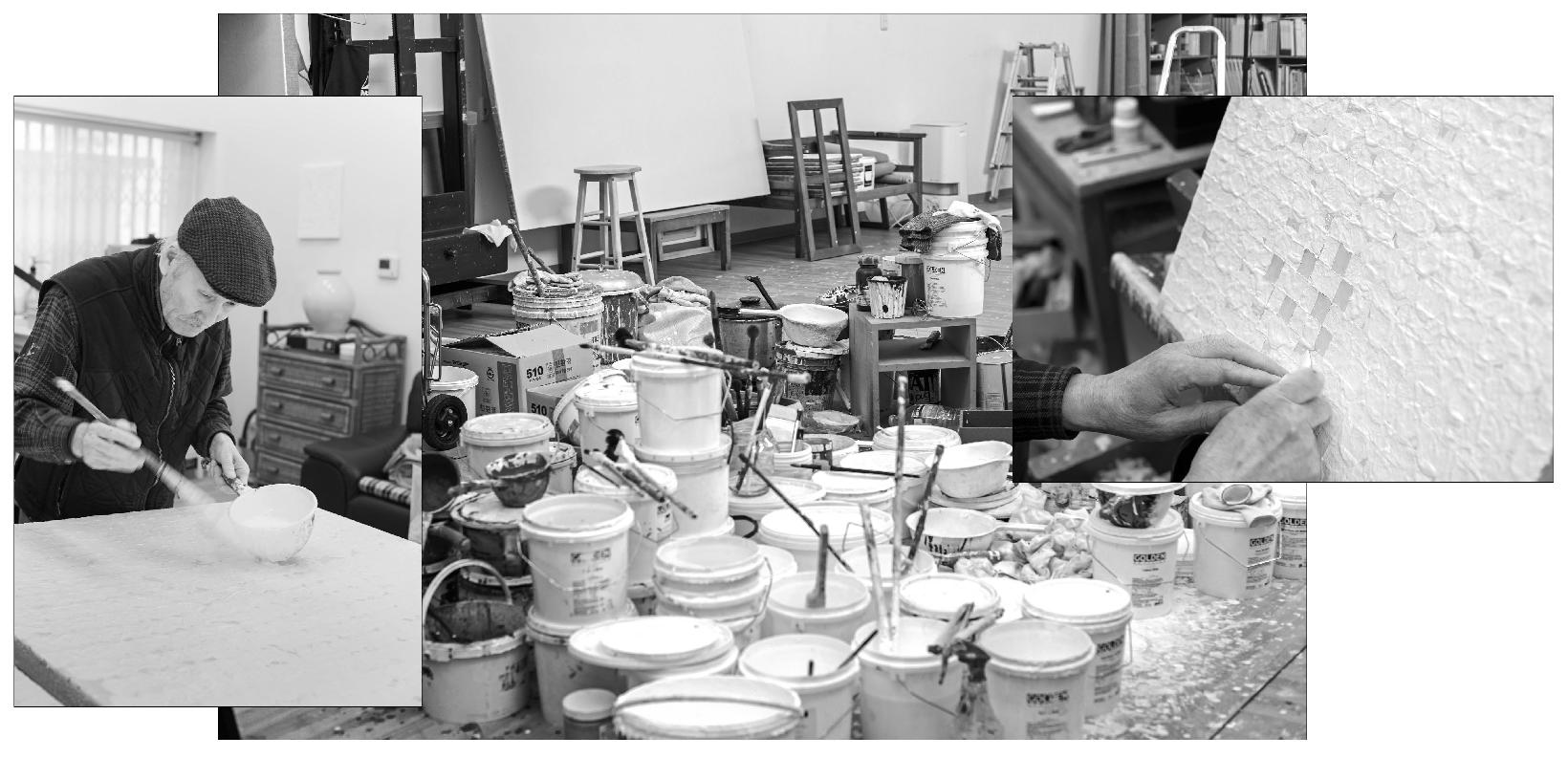 The paintings of Chung Sang-Hwa are paintings that have not been drawn. His works are borne of labors both ceaseless and meticulously calculated. The result of an endlessly repetitive process of subtraction and addition of materials to the cracks of the canvas, Chung's painting, in other words, is the work of ascetic ritual. These are works that hold the passage of time, the accumulation of countless spaces. The canvas itself becomes the work of art, void of any image. The artist emphasizes that the act of creation itself is "(his) language." "My work is a thorough pursuit of a plane being developed with the high and the low. The process of my art-making is to quarry and collect."1)

How, then, are the paintings of Chung Sang-Hwa actually created? Critic Yil Lee noted the following about the process of formation behind Chung's distinctive paintings:
"At first glance, Chung's paintings can seem a bit uniform, even cold. In terms of technique, his process requires not just thorough craftsmanship but also an incredibly high level of concentration and determination. To begin, he would apply an initial layer, about 5mm thick, of zinc to the canvas itself. Then, after waiting for that to dry completely, he would fold the canvas at precise, regular intervals, horizontally and vertically, etching a perfect checkerboard grid onto the surface. This was the first step of his process. The second step required even more meticulous attention to detail. Following the cracks created by this net of vertical and horizontal lines, sometimes crossing at oblique angles, he would scrape the zinc paint out of each countless tiny square, one at a time. The resulting spaces, he would then go back and pack in with several layers of acrylic paint. This was how his distinctive 'mosaic' painting style was accomplished."2)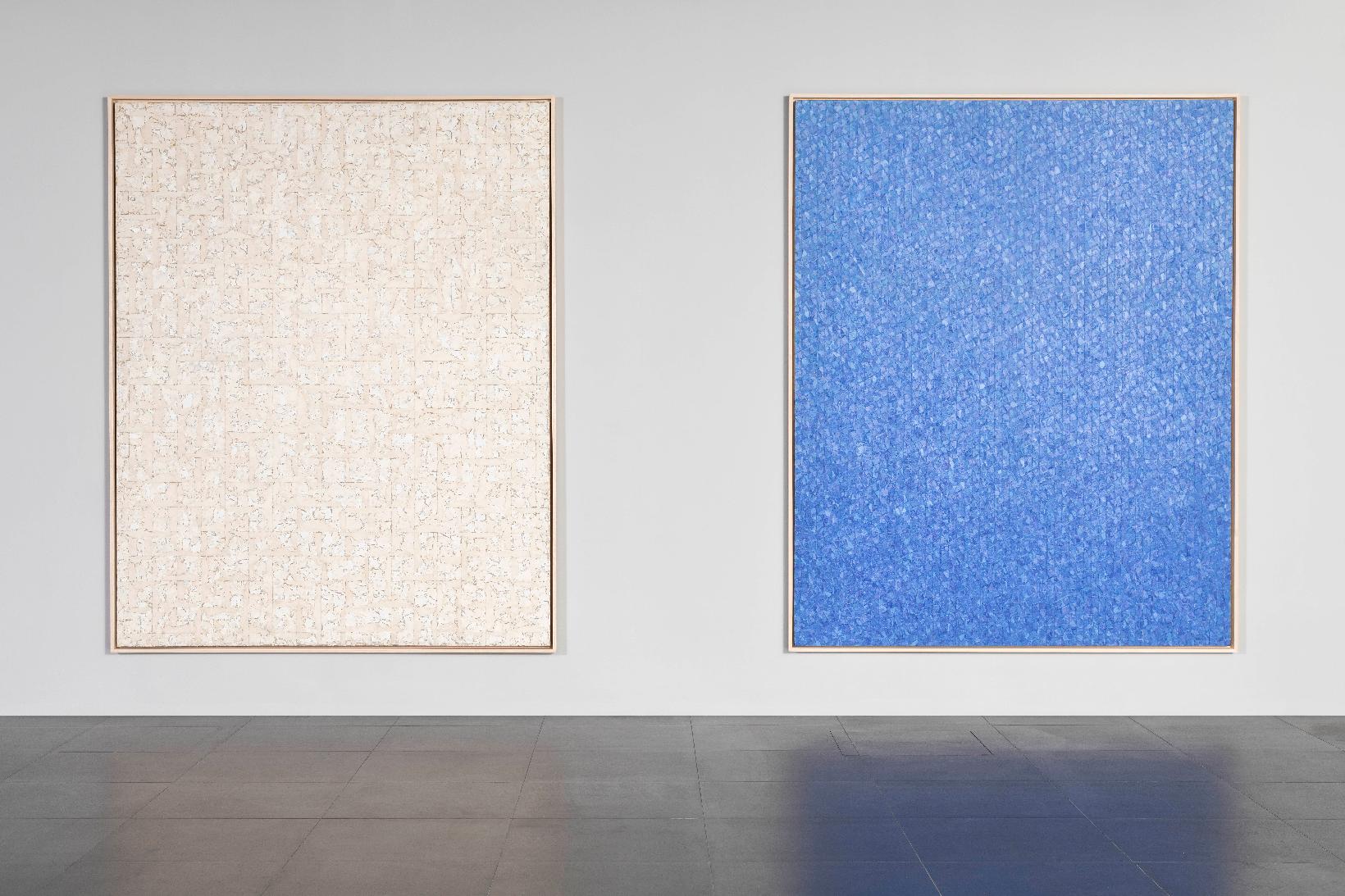 현대 HYUNDAI 50, an exhibition celebrating Gallery Hyundai's 50th year anniversary, showcases two beautiful paintings that represent this artistic universe of creation through countless acts of exposure and application. These works are Untitled 74-6 produced in 1974, and Untitled 86-1-7 produced in 1986. While the artist sometimes uses blacks and browns, the color he most often employs to refill the canvas is white, or perhaps blue. Critic Oh Gwang-su asserted that there was something so distinctive about the blues of Chung Sang-Hwa's works that they led viewers down an unknowable path of deep emotion. "Blue is a color that always accompanies depth. When we speak of the dimensionality of depth, we think of blues. The endless depth of the sky is faint and faded even as it collapses into the ever darkening blue of distance. The dark blue of the unfathomable ocean moves us to awe, mysterious. In these ways, blue is not a color of this earth. It always contains some aspect of the other side. The blue monochrome that Chung reveals is gesturing to us, calling us into that unfathomable feeling."3)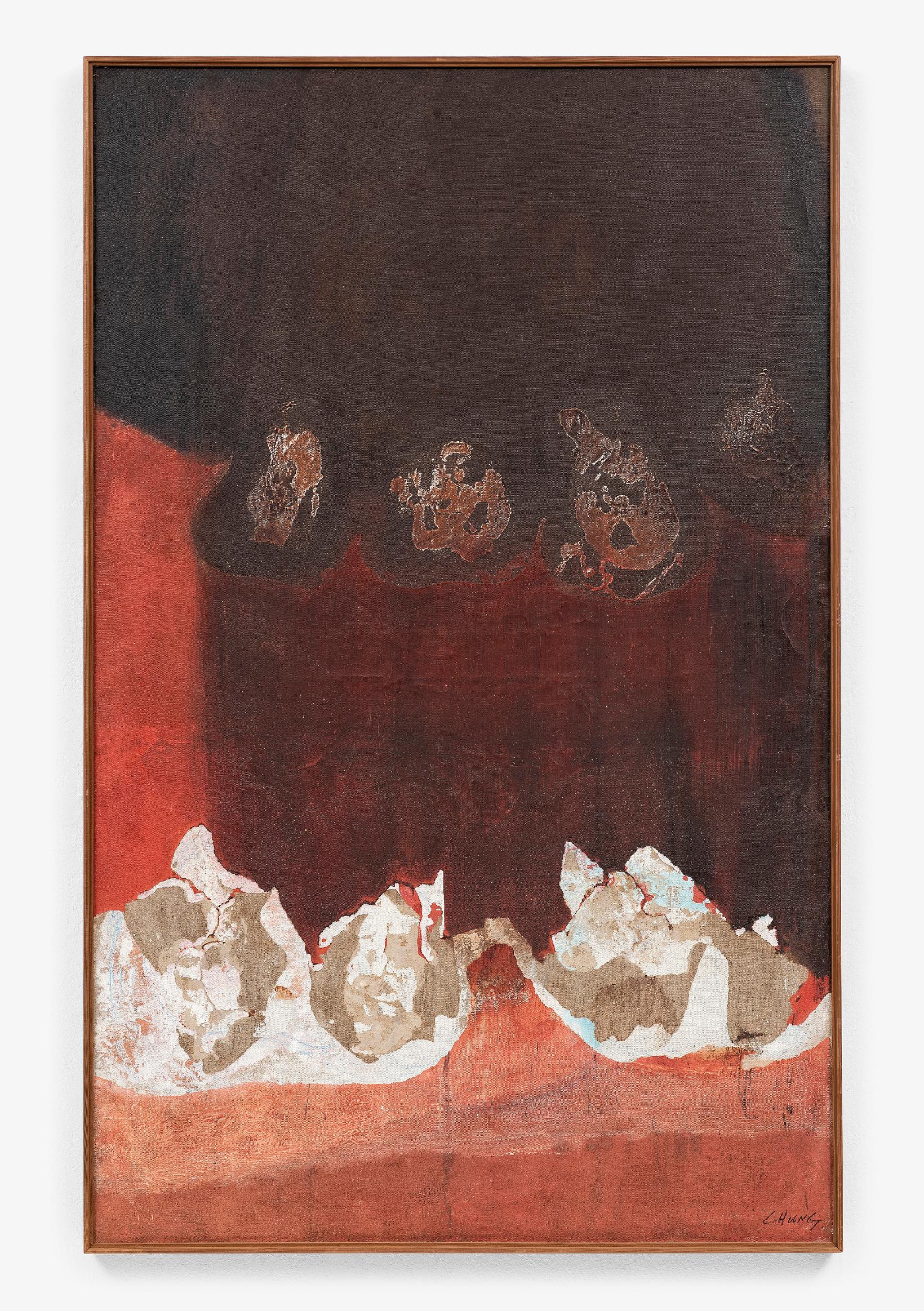 Chung Sang-Hwa showed a talent for fine art at a young age. His drawing skills were recognized early on, with him receiving First Place in the Masan High School Art Awards (1952) while a student at Masan High, and going on to win yet more awards at Seoul National University's 6th and 7th Annual Art School Exhibitions, respectively (1955-56). Chung's early works, produced in the 1960s, are representative examples that show the influence of American abstract expressionism and Europe's art informel on the direction of the Korean Informalism movement. Key characteristics include the use of dark colors, modeling elements protruding from the surface, and certain material properties. As the 1960s progressed, Chung began conducting detailed experiments in color relations around earthy reds and dark oranges, while simultaneously using non-traditional materials like kaolin, an industrial clay, to actively explore the possibilities of the canvas surface.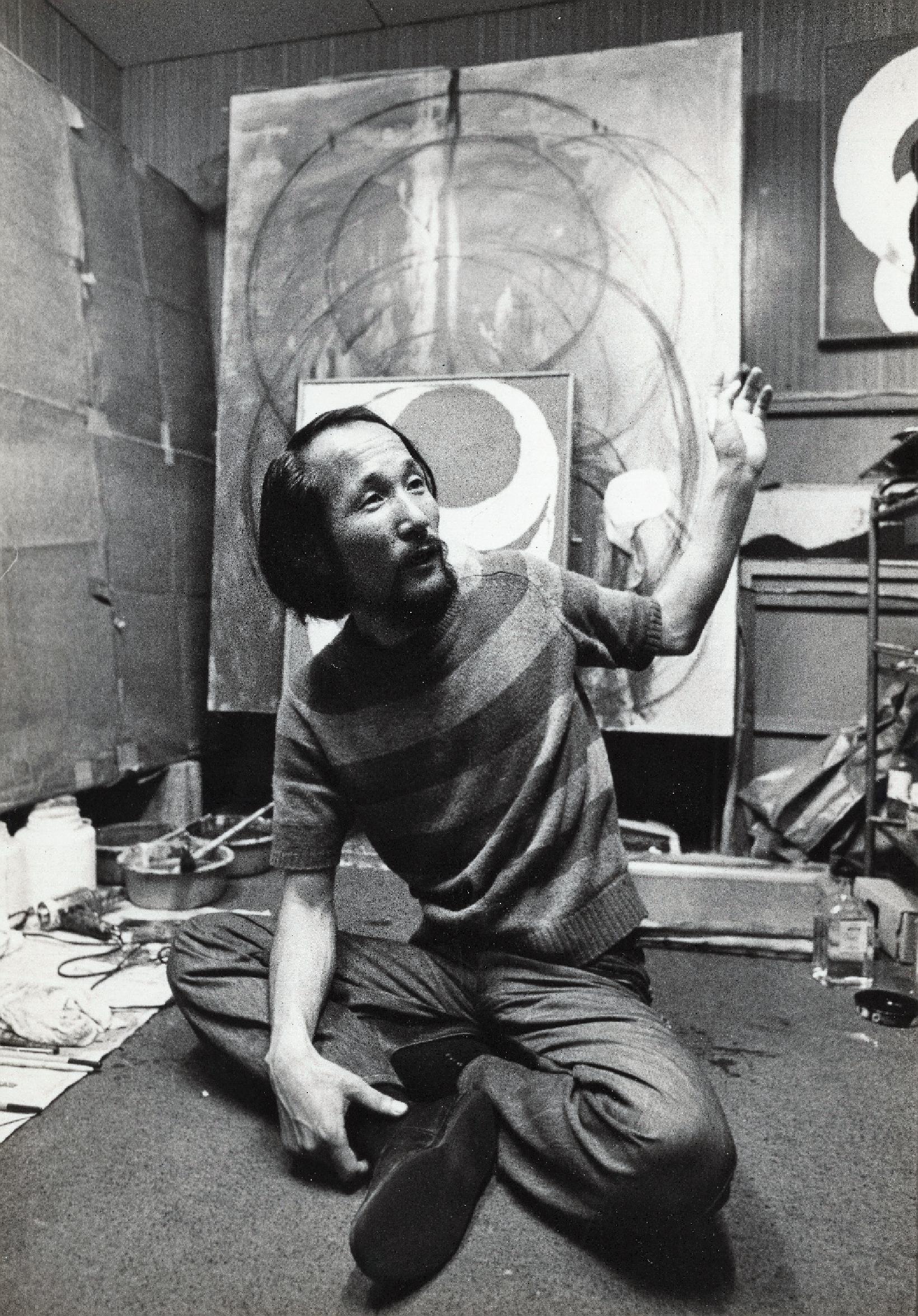 Through the 1970s, Chung continued his work while splitting his time between Japan and France. Relocating from Paris to Kobe in 1969, he engaged in an active exchange with artists like Jiro Yoshihara and Kazuo Shiraga, members of the radical post-war avant-garde Japanese artists' group Gutai. Work K-3 (1970), and Work 70-9-15 (1970) are among the pieces produced during this period that reveal the kind of abstract compositional elements that suggest a more intuitive process of completion. At the same time, however, this process would have been meticulous as well, as these works also underwent the artist's singular — and strict — process of repeatedly exposing and filling in the surface of the canvas, strategically revealing and concealing its form. Moving into the late 1970s, toward the grid forms we can see in mid-period works like Untitled 78-11-29 (1978), Chung continued pursuing the systematic development of his singular individual process. Having returned to Paris in 1977, Chung remained there until his homecoming to Korea another fifteen years later, where, to this day, he continues painting at his studio in Yeoju. About his 1970s paintings in particular, the artist has said: "Continuously honing his technique, he selectively applies, attaches, and removes his materials, interacting with each canvas in a ritualistic manner."4)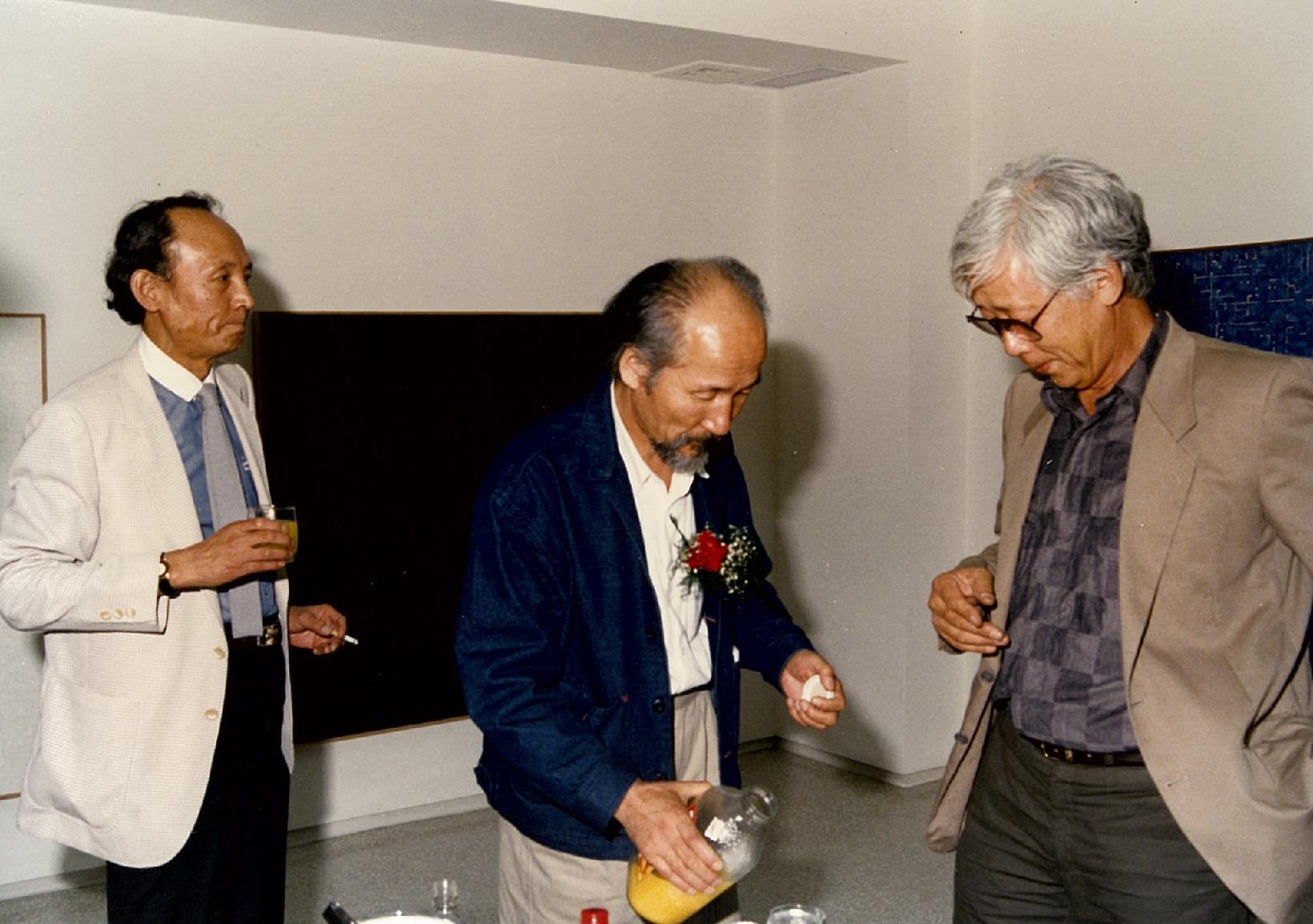 Gallery Hyundai opened its first Chung Sang-Hwa solo show in 1983. On this occasion, after seeing the paintings on display, artist Lee Ufan declared: "I have been all over the world and I have never seen another artist who does work this difficult, with this level of craft and attention." In 1987, Gallery Hyundai showed Chung's paintings at an international art fair based in Chicago — a historic first for a Korean gallery. Over the three decades that followed, through 2017, Gallery Hyundai opened ten Chung Sang-Hwa solo shows, introducing new works by the artist to viewers both at home and abroad. Chung Sang-Hwa: Excavations, 1964–78 the artist's latest solo show, has been making the rounds over the last two years at Lévy Gorvy in New York and London. This exhibition, too, was put on in collaboration with Gallery Hyundai, and showcased an "excavation" of Chung's major works from the 1960s and 70s, illustrating the deep influence of the international avant-garde movement on the artist during this period of frequent travel between Paris and Kobe.
Aeri Song is an artist and exhibition manager at Gallery Hyundai.
---
1) Chung Sang-Hwa, CHUNG SANG-HWA SEVEN PAINTINGS, Levy Gorvy, 2017
2) Yil Lee, "A Space of Secret Breath: Chung Sang-Hwa," Critic Il Lee: An Anthology (Volume Two), Mijinsa, 2013
3) Oh Gwang-su, "Structuring Planes and Leveling Depth: The World of Chung Sang-Hwa's Methods and Recent Works," Chung Sang-Hwa, Gallery Hyundai, 1983
4) https://www.levygorvy.com/wp-content/uploads/2020/01/Chung-Sang-Hwa-2020-Press-Release.pdf