*글 하단의 '한국어 텍스트 다운로드'를 클릭하면 원문을 확인할 수 있습니다.
Ojak-kio stands as a representative example of Rhee Seundja's body of work, characterized by the combination of Western abstract art with legacies of Korean eastern spirituality on a single canvas.
Numerous figures, circles, triangles, rectangles and the Chinese character for the number ten (十), thin and long, bisecting the frame direct the eye to follow in an arc until, suddenly, in the middle of the canvas it rests on the form of a crescent moon. This is Ojak-kio by Rhee Seundja, a major figure in Korean abstract art. According to the Korean folk literature, "Ojak-kio" is the name of a bridge formed by ravens and crows across the milky way created in order to help reunite two literally star-crossed lovers, Gyeonu (Cowherd) and Jiknyeo (Weaver Girl). With this in mind, the nightscape of the painting takes on a kind of edge. What incident, what personal heartache, might the artist have been weaving into the construction of this particular bridge? Poet Cho Byung-hwa was once moved by this piece to write the following lines of verse: "This is the bridge of the East / laid between only the hearts that love."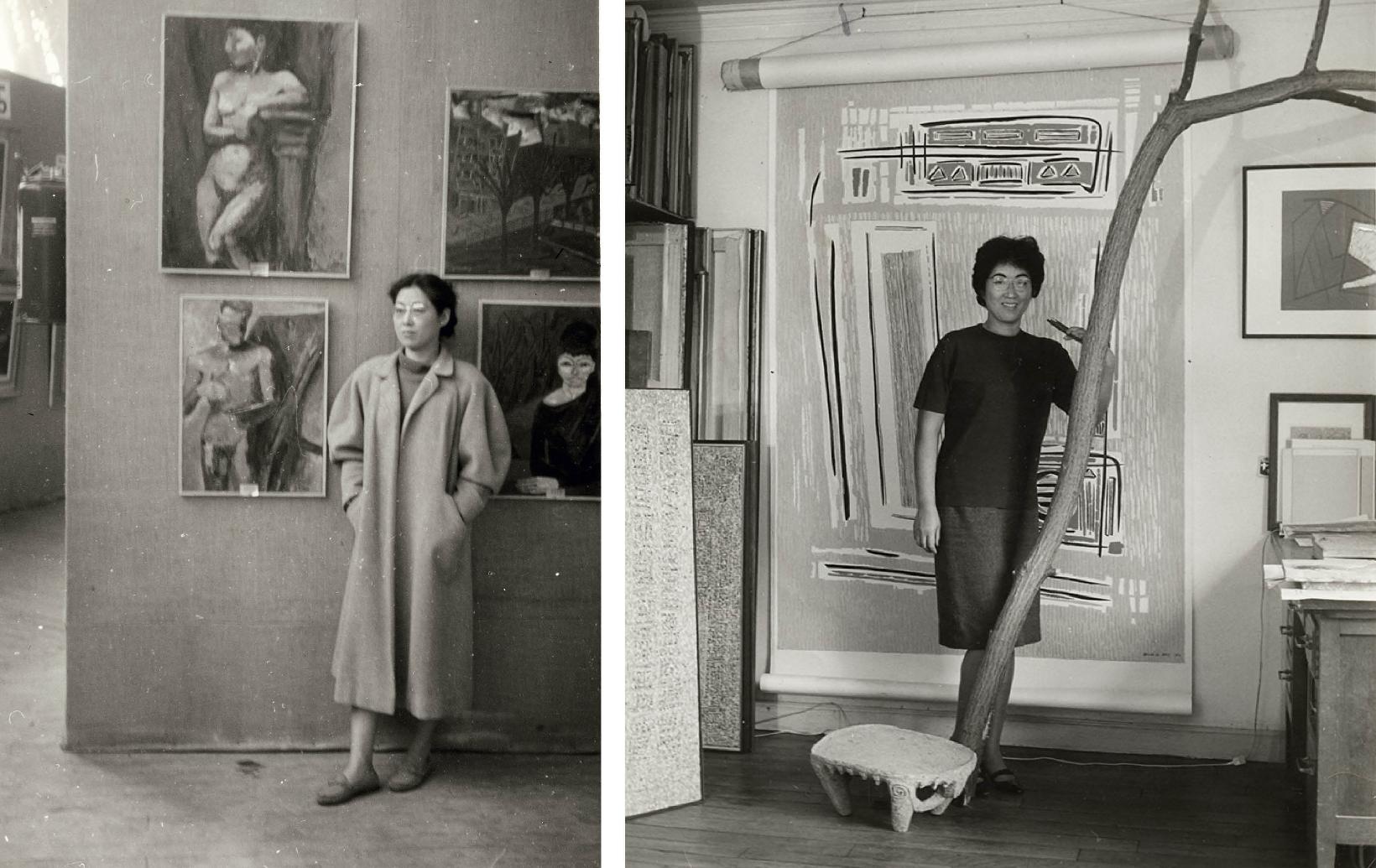 Rhee Seundja (1918-2009) was born in Gwangyang, Jeollanam-do (Southern province of Korea) in 1918. After graduating from Jinju Girl's High School in 1935, she went to continue her studies abroad in Japan. Having chosen Home Economics as her official major rather than art, Rhee's time in Japan still afforded her numerous opportunities to attend a wide array of exhibitions showcasing Western style painting and other modern art. This was a significant influence on her subsequent transformation into an artist herself. Upon her return to Korea, Rhee married a doctor from a respected family, had three sons, and commenced living a life as an affluent housewife. This seemingly golden era, however, was not to last long. Just as marital conflict threatened the even keel of their happy family, the Korean War broke out. It was at this point that Rhee had her maternal rights to her three sons taken by her husband and in-laws. She found herself fleeing alone to Busan in search of refuge with nothing but a heavy heart. As she spent her days mired in a darkness with no signs of lifting, an acquaintance helped Rhee by facilitating an opportunity to move to Paris. Speaking not a single word of French, and with no plan at all for how to support herself, Rhee took the chance to move on from her reality of daily despair and left for France.
"The joy and happiness, the tragedies were buried in the depth of the ocean. I have arrived in Paris in peace. I have nothing with me. I do not know even a word of French. I have nothing. I am nobody. I am going to be reborn, reborn in foreign soil."1)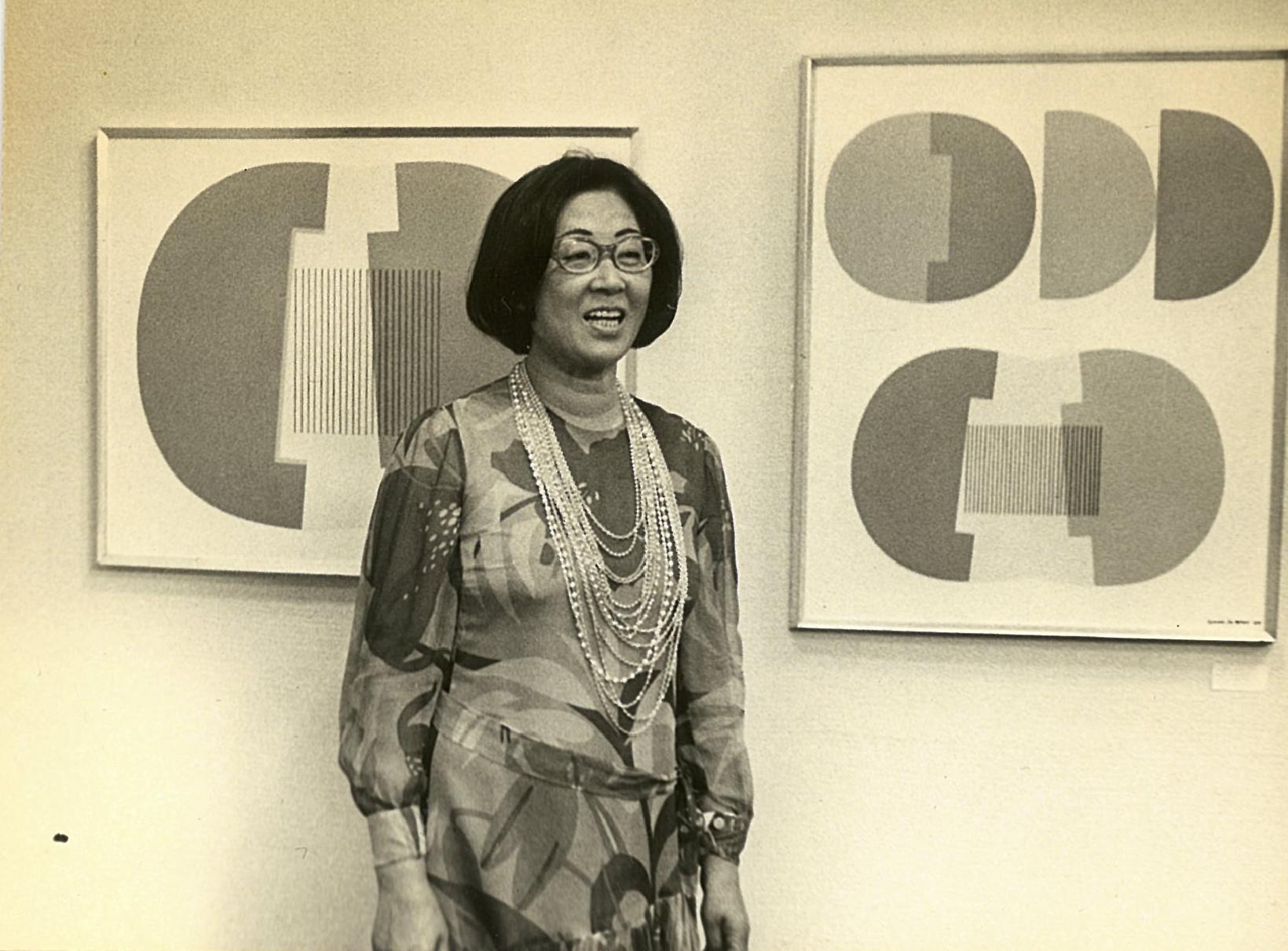 While studying at a fashion institute in Paris, Rhee's unusual talent was spotted by an instructor, who recommended her for a course of study at the Académie de la Grande Chaumière where she received instruction in painting, sculpture and etching. It was here that Rhee studied abstract painting under Henri Goetz (1909-1989), and began to really open her eyes to the world of contemporary abstract art. Finding herself a small room at 98 Boulevard du Montparnasse, Rhee threw herself into her studies, ceaselessly producing still lifes and landscapes on her own while also continuing to study with Goetz in his studio for another two years. Ultimately parting ways with the supremely modernist Goetz, she left his studio and began building a world of abstract art uniquely her own.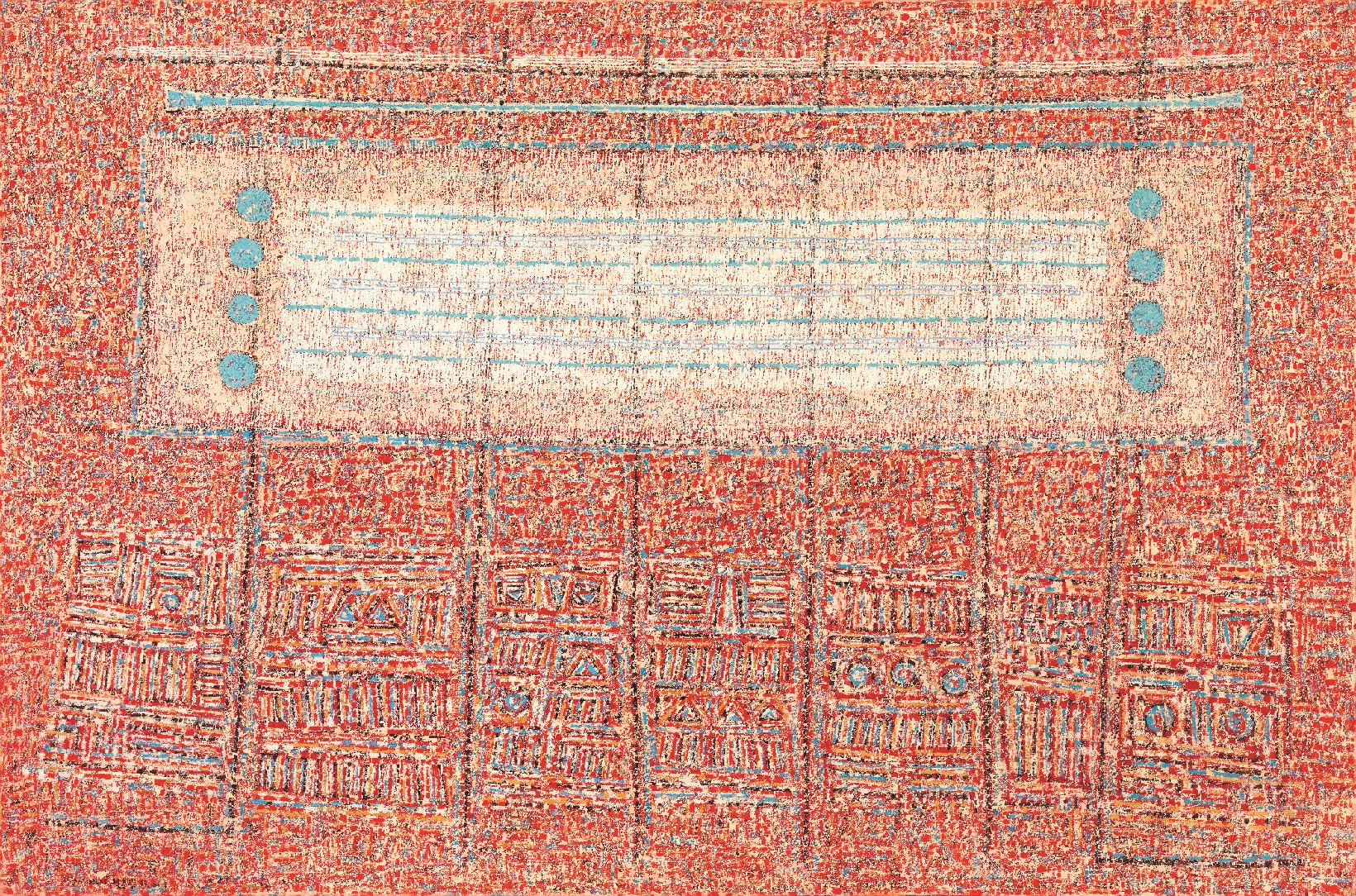 By the late 1950s, Rhee's abstract art was fully hitting its stride. These works were characterized by the colorful geometric shapes like rectangles, rhombuses, triangles, and circles that tended to compose a large part of the frame, usually finished in rough texture. Entering the 1960s, this rough textural finish was intensified. Along with this progression towards further emphasizing the matiere, the smoother shapes eventually disappeared from her work, giving way to dots in various alternating colors that filled the canvas.
This lone woman who came from the Far East provided French audiences a window to the Korean mind and sentiment. It was in this context that Rhee received acclaims from critics such as Gaston Diehl, who took delight in the "palaces and temples of her motherland hidden in her works," and Choi Sunu, who praised the "fresh allure of protoplasm-like purity."2)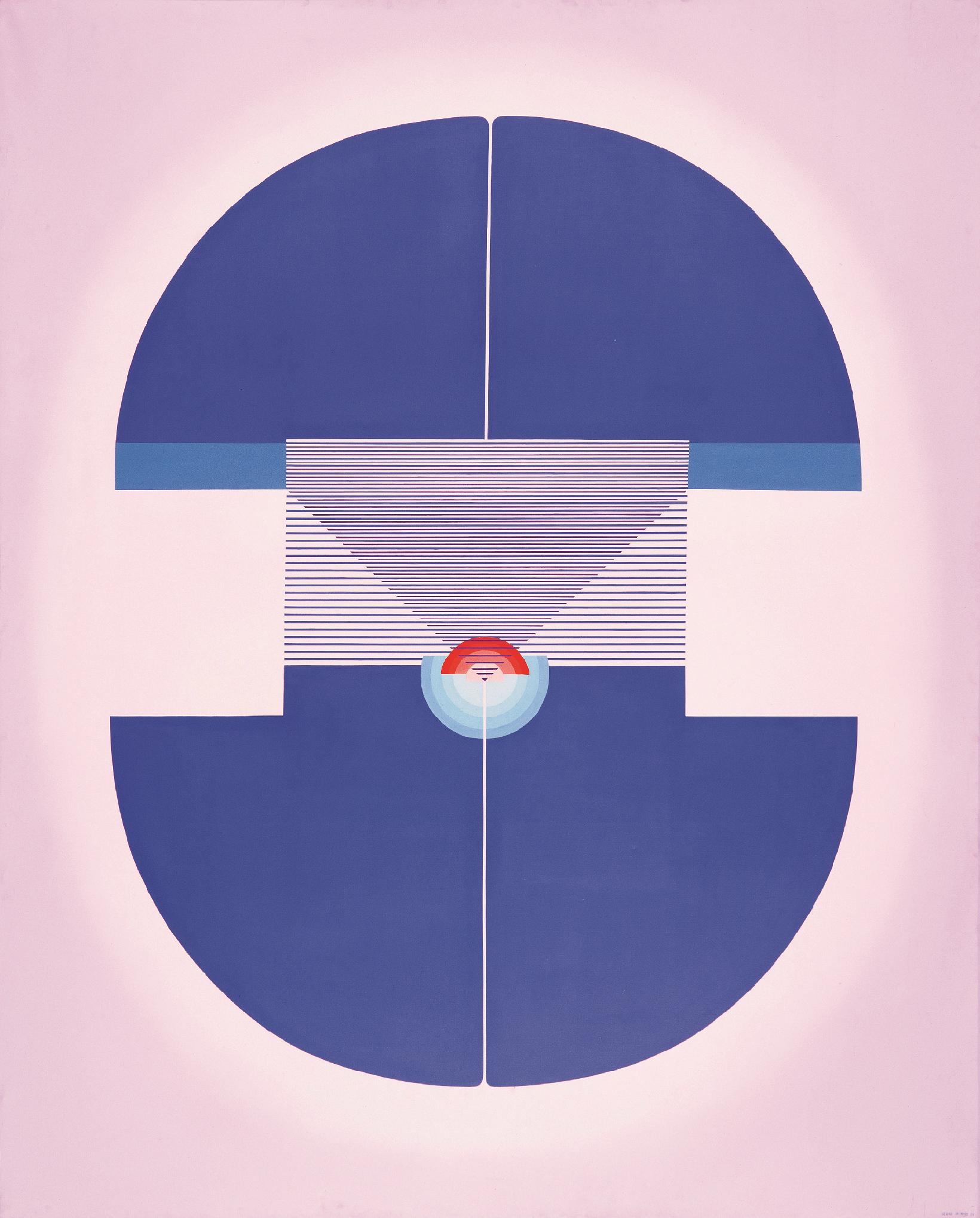 A representative work from precisely this period, Ojak-kio captures the essence of Rhee's practice, characterized by the combination of Western abstract art with Korean spirituality and the legacies of the East, all on a single canvas. As suggested by its very title, Ojak-kio contains Rhee's aching longing for her homeland and her three children, left behind as she worked to make a life for herself in France. As such, "Ojak-kio" became not only an illustration of its namesake bridge, but also, simultaneously, an actual bridge of connection between Rhee and Korea. In the end, the ongoing attempt to portray cosmic order and the natural life force through art is boiled down to matiere completely filled with small dots and lines. In this, we can observe the schematization of the patterns and images of the traditional Korean culture of her youth, like the yin yang and the Eight Trigrams for divination.

"I am an ordinary Korean woman born in Korea. So I am always desperately conscious of the soil that have birthed me and the fact that I am a woman. Perhaps this consciousness is always reflected in my work as an established inspiration in a fun way. I am only going to be able to paint what I can do as a Korean woman and as a woman, just calmly and happily."3)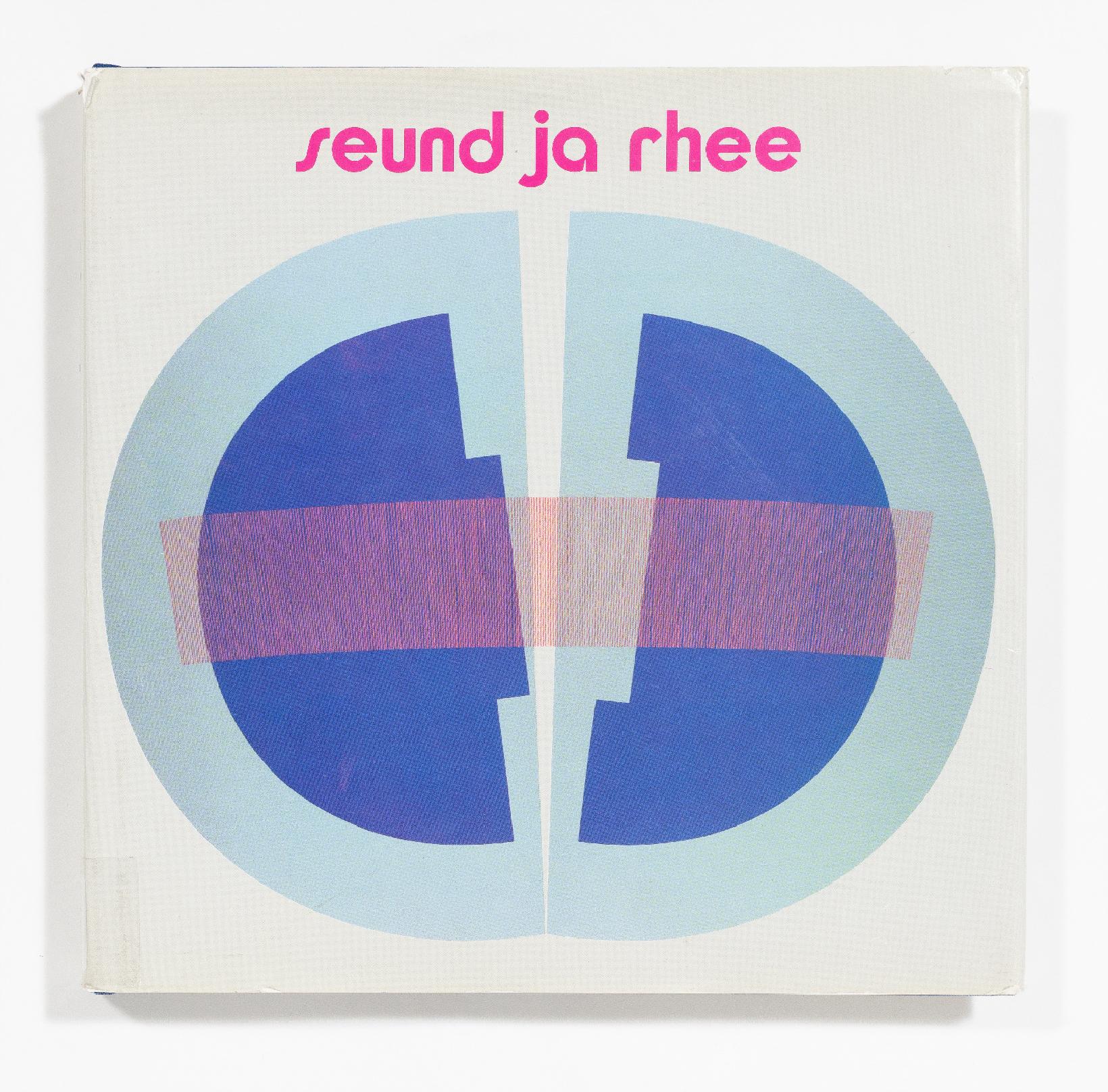 Rhee Seundja's first show at Gallery Hyundai opened in 1974. In 1985, the second solo exhibition at the gallery, Rhee Seundja showcased major works by the artist from the 1960s, in what constituted her early period. On this occasion, Gallery Hyundai also compiled and published a catalogue of her paintings to date. Unusual for the time, this book was produced in Korean, English, and French, and the presence of scholars You Hongjune and Yoon Chulkyu on the editorial board added new depth to the study of the artist. In his opening remarks for 2018's Rhee Seundja's Abstract Painting 1957-1968, an exhibition celebrating the 100th anniversary of the artist's birth, You Hongjune noted: "Rhee's abstract paintings maintain a sense of warmth with deep feelings running at their base."4) While it may be true that most of her paintings began in a place of pain, sadness, longing, the results are always bright and beautiful. And this, as You Hongjune also pointed out, was certainly one major reason that Rhee Seundja's paintings seemed so Eastern and mysterious to those who encountered them in France, paving the way for her to stake her individual claim to distinction.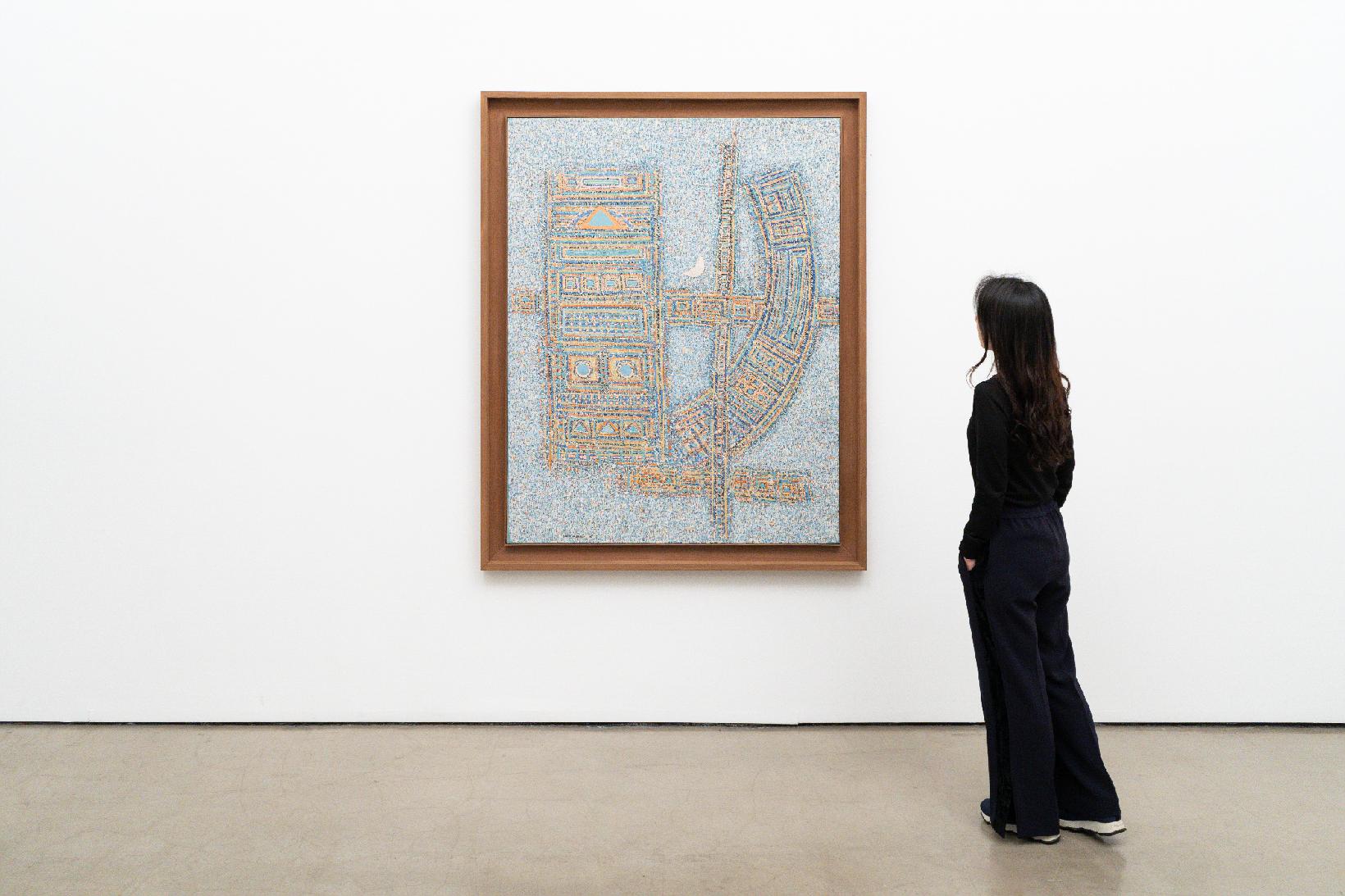 Heami Park is an artist and exhibition associate at Gallery Hyundai.
---
1) Rhee Seundja, Youlhwadang, 1985.
2) Seo Seong-rok, "From Earth to Forever; Rhee Seundja's Artistic Journey," Rhee Seundja, Maroniebooks, 2018.
3) Rhee Seundja, Youlhwadang, 1985.
4) Yoo Hong-jun, "The Rhee Seundja I had Met: The Artist Who Opened My Eyes to the Beauty of Korean Abstract Art," Rhee Seundja's Abstract Painting 1957-1968, Gallery Hyundai, 2018.