*글 하단의 '한국어 텍스트 다운로드'를 클릭하면 원문을 확인할 수 있습니다.
Kim Whanki's Universe 05-IV-71 #200 Set Auction Records for a Work of Korean Art. Korean audiences get the chance to see the work at Gallery Hyundai's 50th Anniversary exhibition 현대 HYUNDAI 50
"I am attempting to have dots come together to represent form and I strive to continue doing this." — Kim Whanki journal entry dated January 23, 1968 ⓒWhanki Foundation · Whanki Museum
Kim Whanki (1913-1974) is considered the "Master of Korean Abstract Art." In his final years, Kim constructed a whole world of "full surface dot paintings" comprised of canvases filled entirely with countless dots. Completed in 1971, the piece Universe 05-IV-71 #200 is understood to capture the essence of Kim Whanki's abstract painting practice at its peak. The work is also unique by the fact that it is the only diptych he constructed. The circles of each panel create a harmonious symmetry with the other with the entire work forming a perfect square measuring 254 x 254 cm. Upon closer examination, tiny rectangles, like the holes of a bee hive, pack the field which are then filled in turn with innumerable dots marked delicately by the calligraphy brush. Dot and line, together with the color-field are the elements that bond organically to create a grand "universe." The dots in the upper half of the piece that form a circle and expand downward almost seem to vibrate and the viewer standing before the work can experience this synesthesia. Each of the dots that fill the painting represent one of the shining stars that make up the universe that is the piece itself.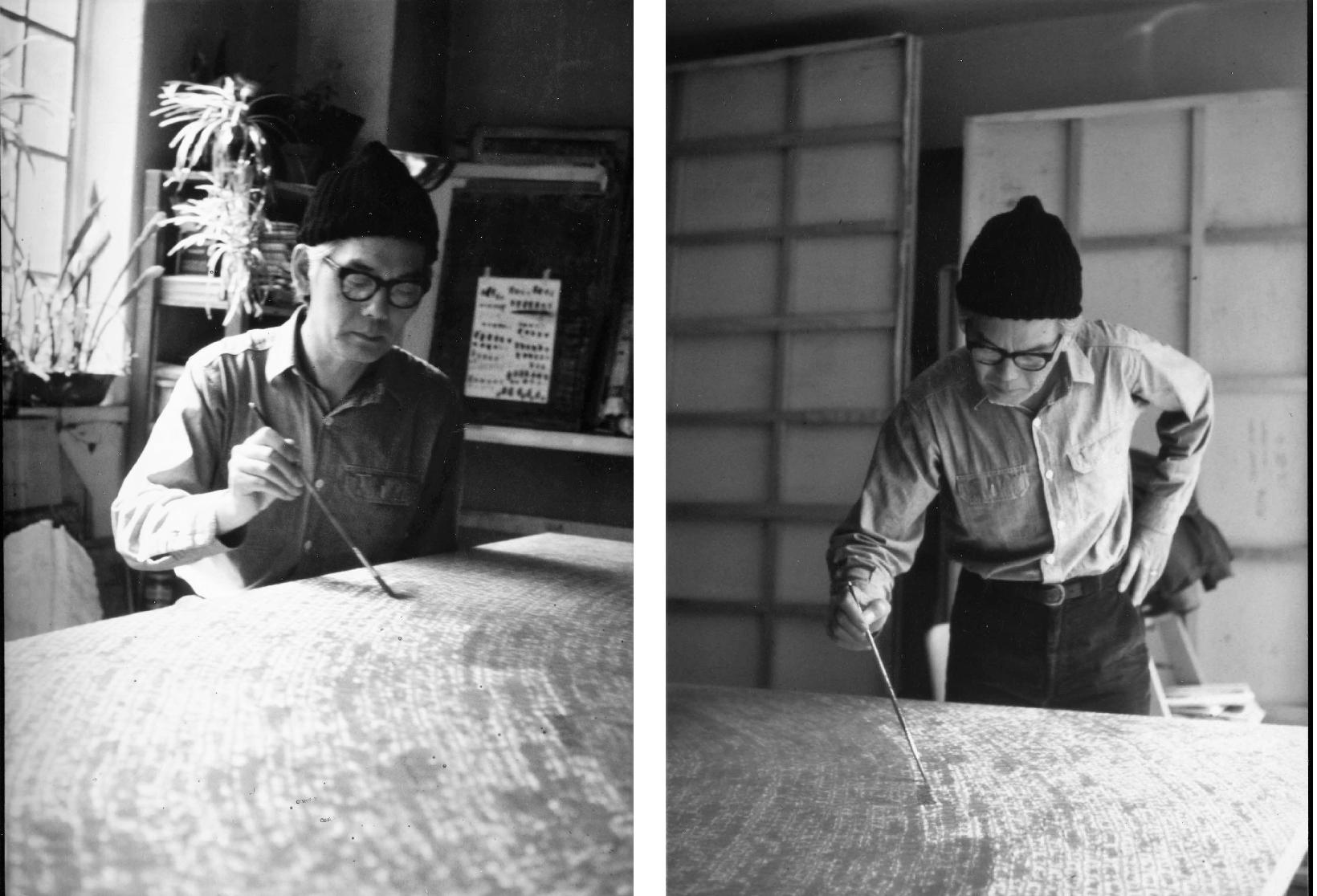 Why dots? The dot first began to appear regularly in Kim's work as an element in abstraction during the mid-1960s. With his move from Seoul to New York in 1963, his pieces became less and less figurative and more abstract with initial dot works composed of linear horizontals and verticals. Gradually he began to incorporate diagonal arrangements and lines, division of field, and marked dots in different directions. Kim attended not only to dots and lines but to the function and efficacy of color to communicate emotion and thematic expression. While Kim's earlier dot paintings overflowed with vibrant color employing reds, blues, and greens, his later works were primarily gray-blue or gray-black marking the attainment of the characteristic hue known as "Whanki Blue" among experts. Universe 05-IV-71 #200 radiates the sublime beauty of "Whanki Blue" without limitation. Entering the 1970s, the artist began using a very diverse range of blue colors. By blending paints and layering pigments to emphasize the subtle differences between light and shade, he was able to create the effect of a whole and unified surface while being composed of ten thousand separate levels of shining color woven together.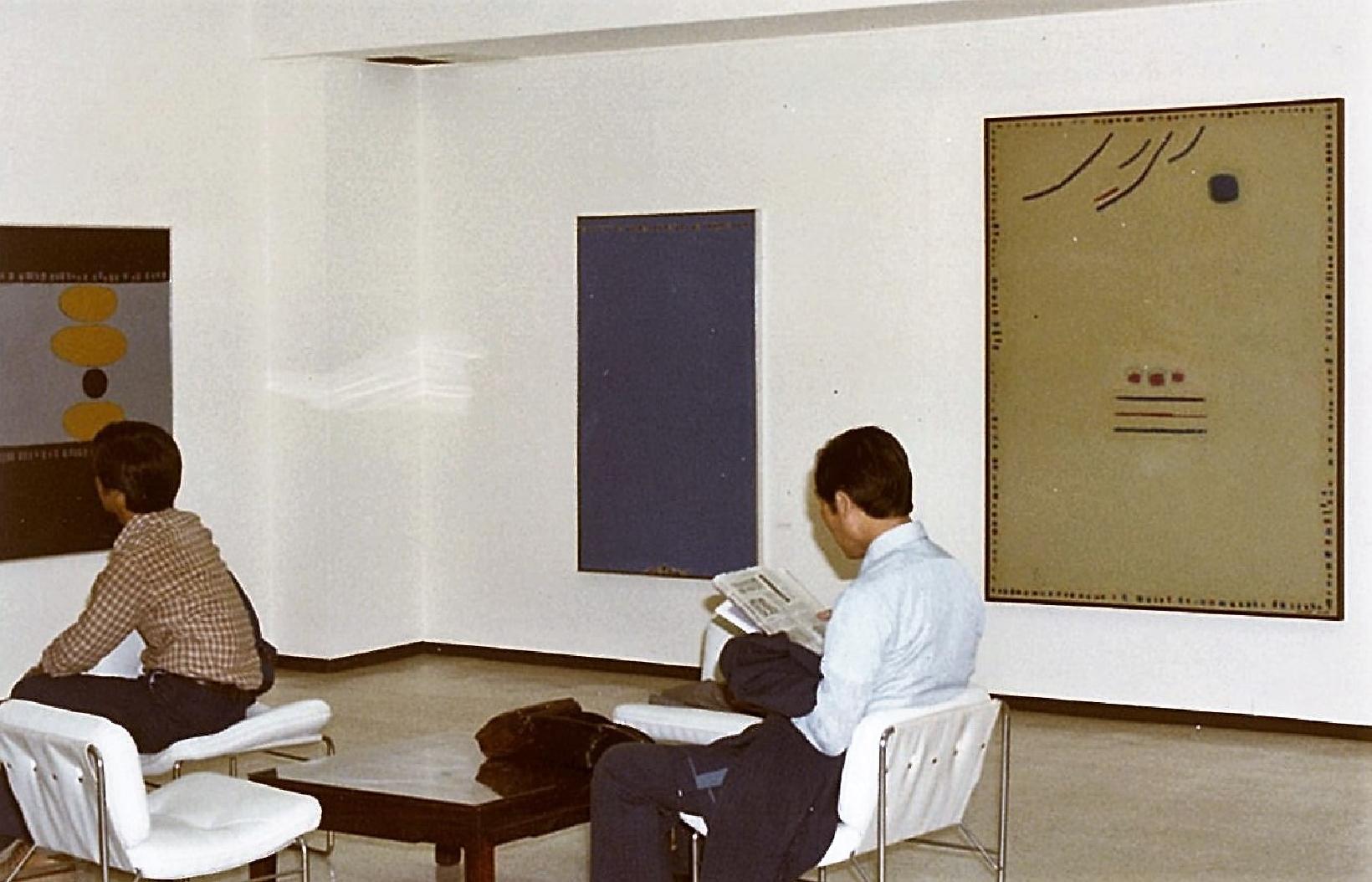 In this way, the dot was the culmination of Kim's varied experiments toward abstraction. Furthermore, the act of marking each dot was an act of longing towards those left behind in his homeland. As he bent over this canvas, painfully straining his spine as he made countless dot after dot, it is said that he was thinking of his home and of his friends.
"When I think, it's about friends—friends who are dead or friends I have no way of knowing whether they're dead or alive—that's what I think about. I draw with sorrowful thoughts, but I still want the pieces to be beautiful, even cheerful."
— Kim Whanki journal entry dated September 14, 1972 ⓒWhanki Foundation · Whanki Museum
How was Kim's work received in his lifetime? Universe 05-IV-71 #200 was exhibited in September 1971 in a solo exhibition held at New York's Poindexter Gallery with the image used for the event poster. One critic who saw the exhibition praised Kim's "impressive vocabulary for expressing the universe. More than ever before, Whanki Kim is succeeding at creating and developing a kind of spirituality through his works. The continuous and repetitive patterns, in their variety of size and shape and unexpected hues, never fall into disorder, and, indeed, manage to soothe the eye. Entering deeper than ever before into that wide range of colors, he is able to spin a whole vocabulary out of just a few colors and some dots and rectangles — like starlight, or like the lights in a city at night. (…) Whanki's works employ an impressive vocabulary for expressing the universe."1) This piece was also shown as part of a special exhibition at the São Paulo Biennial in Brazil, which opened in October 1975.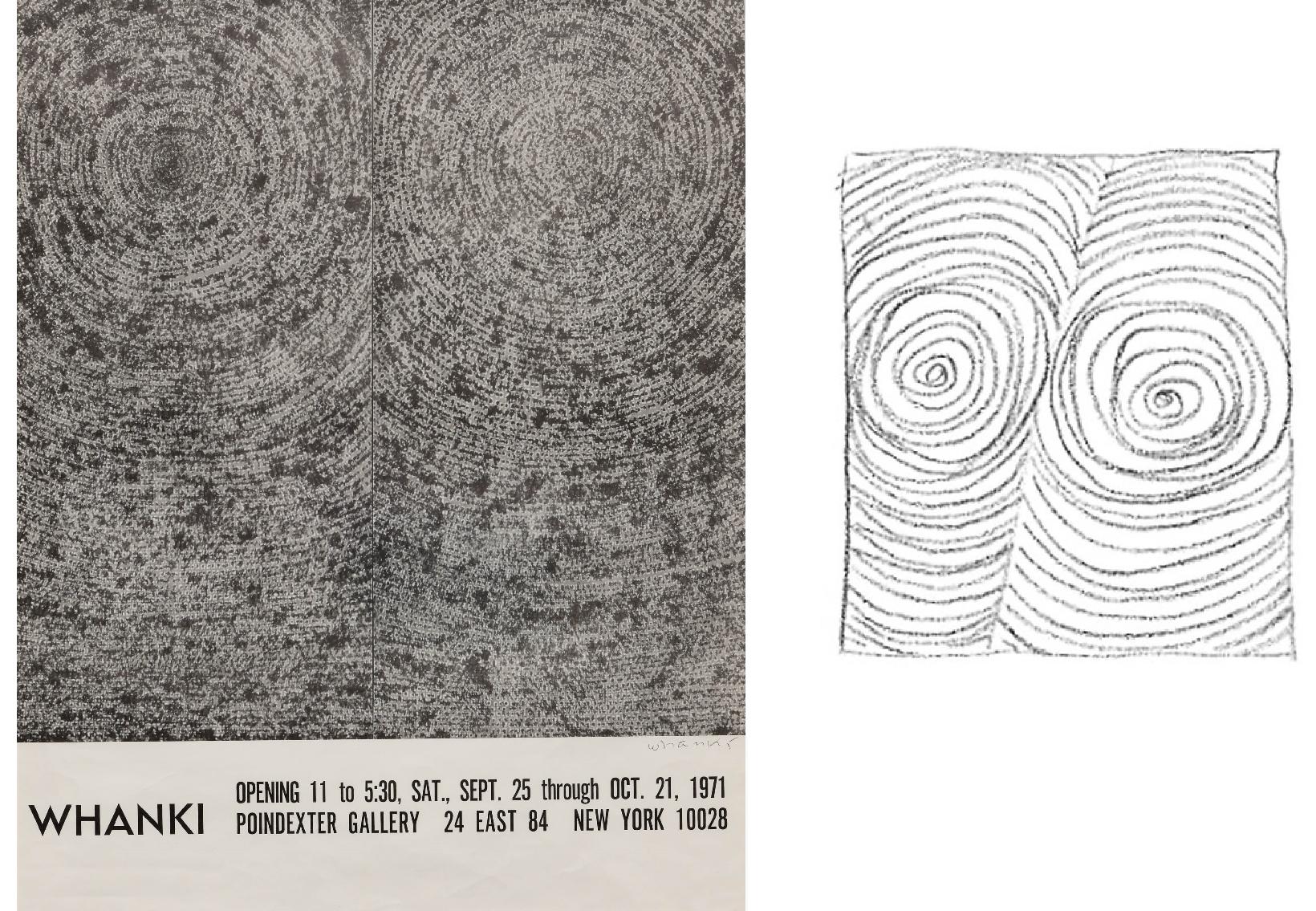 What process was involved in bringing Kim's "full surface dot paintings" to completion? Mme. Kim Hyang-an, the artist's wife who spent years at the artist's side observing his creative process, recalled the moment as such that the way the dots met the canvas depended on "the artist's mood," and that each dot would be encompassed by a rectangle and the repetition of this sequence would ultimately result in a "world of mysterious, shimmering color."
"Big dots, small dots, thick dots, thin dots, these marks from the heart would come, flowing one after the other, according to his mood. One after the other until the brush ran out of paint. Flowing one after the other, just like that, was how the canvas eventually became full. Then, in a different color, he would enclose each dot, one after another. This was a very time consuming process. (...) Then, again, with another color, he would enclose each enclosing rectangle. And then after enclosing the entire canvas, he would do it yet again, with yet another color, with yet more rectangles. Essentially it was three steps of rectangles. (...) A world of mysterious, shimmering color created by these different overlapping hues — this is what sets this artist apart."2)
Matthew Kim, a Korean-American physician and longtime owner of Universe 05-IV-71 #200, was a longtime personal friend of the artist and a patron of his work. The two men first met during the Korean War, at a tea house in the port city of Busan where both had taken refuge. Matthew Kim subsequently immigrated to the U.S. and became a doctor and when the artist decided to move to New York in 1963 to continue his studies it was Matthew Kim who provided the artist with many forms of support for the artist's move. In 2019, after forty-seven years in the possession of the work, Matthew Kim's consigned Universe 05-IV-71 #200 shocked the world when it set a new record as the highest-priced piece of Korean art ever sold at auction. The work Universe 05-IV-71 #200 will be forever known for writing a new chapter in Korean art history.

Beginning with 1977's Kim Whanki Retrospective, Gallery Hyundai has held a more ten separate Whanki Kim exhibitions and has approached his impressive body of work from many different angles. Subsequent exhibitions include: Kim Whanki (1982); Kim Whanki Works In Gouache (1990); Kim Whanki 20 Year Retrospective — Becoming Something Somewhere and Meeting Again (1994); Kim Whanki : The Seoul and New York Years (1999); Kim Whanki, Master of Korean Modern Art (2012); Works on Paper: 100 Years of Kim Whanki Kim (2013); and Kim Whanki's Line • Surface • Dot (2015) among others. The successful opening of many of these shows owed much to the support of Mme. Kim Hyang-an who maintained a close bond with Gallery Hyundai through the years. Gallery Hyundai, in turn, was instrumental in supporting the founding of the Whanki Museum in 1992 as well as supporting events such as Dessin • Gouache: Busan • Paris • New York (1952-1966) held on the 15th anniversary of the artist's passing.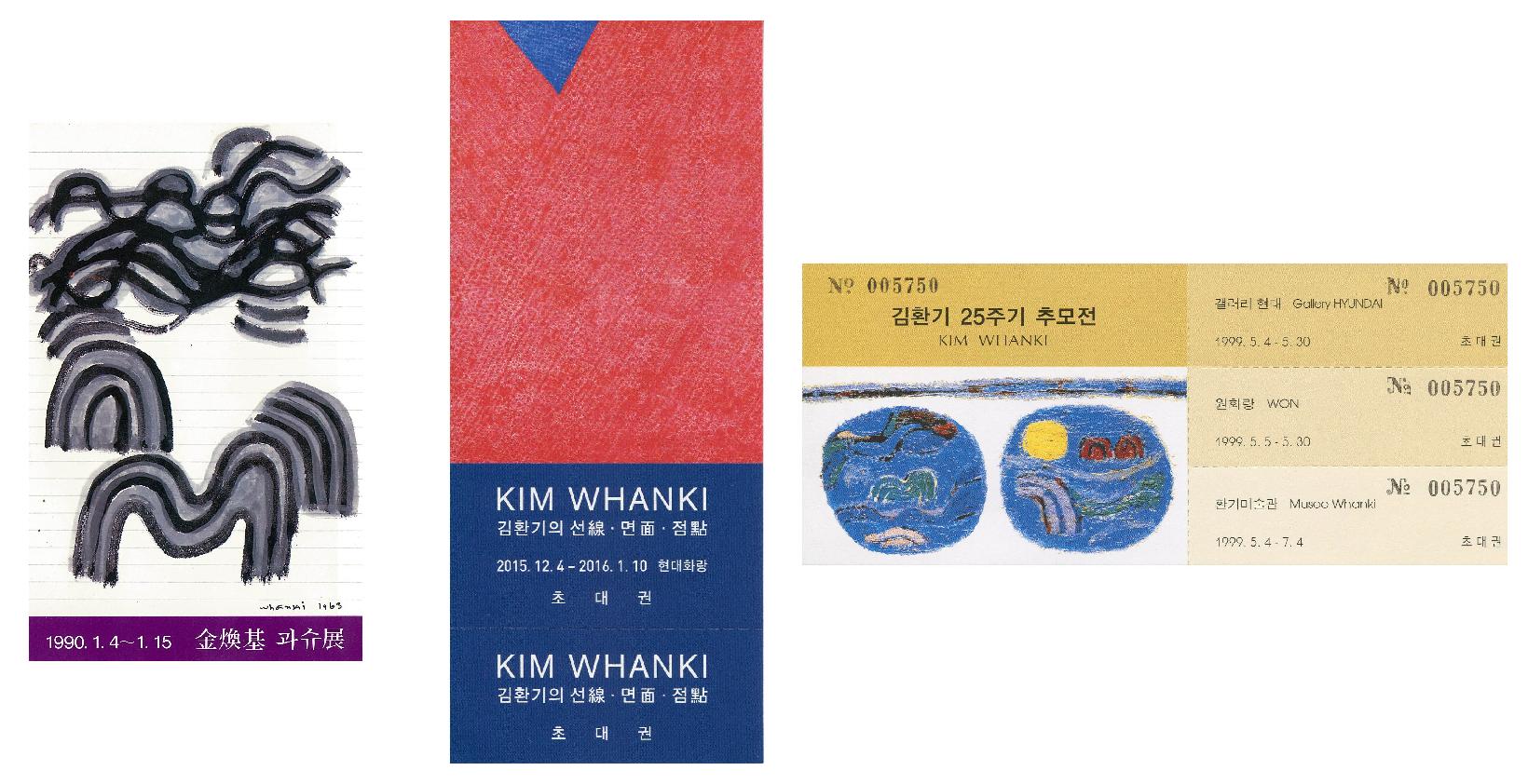 The first show to introduce Universe 05-IV-71 #200 to Korea took place in 2012 at Gallery Hyundai when it was included in Whanki Kim, Master of Korean Modern Art. Now, eight years later, the piece returns again to the halls of Gallery Hyundai. Indeed, an exhibition as one celebrating the gallery's 50th anniversary simply would not have been complete without an exception work by the artist. For this reason, Gallery Hyundai reached out to the collector who had so recently acquired the masterpiece with the hopes of showing the piece once more. Acknowledging and appreciating the long term relationship between the gallery and the artist, the collector promptly agreed to allow the work to be included in the exhibition.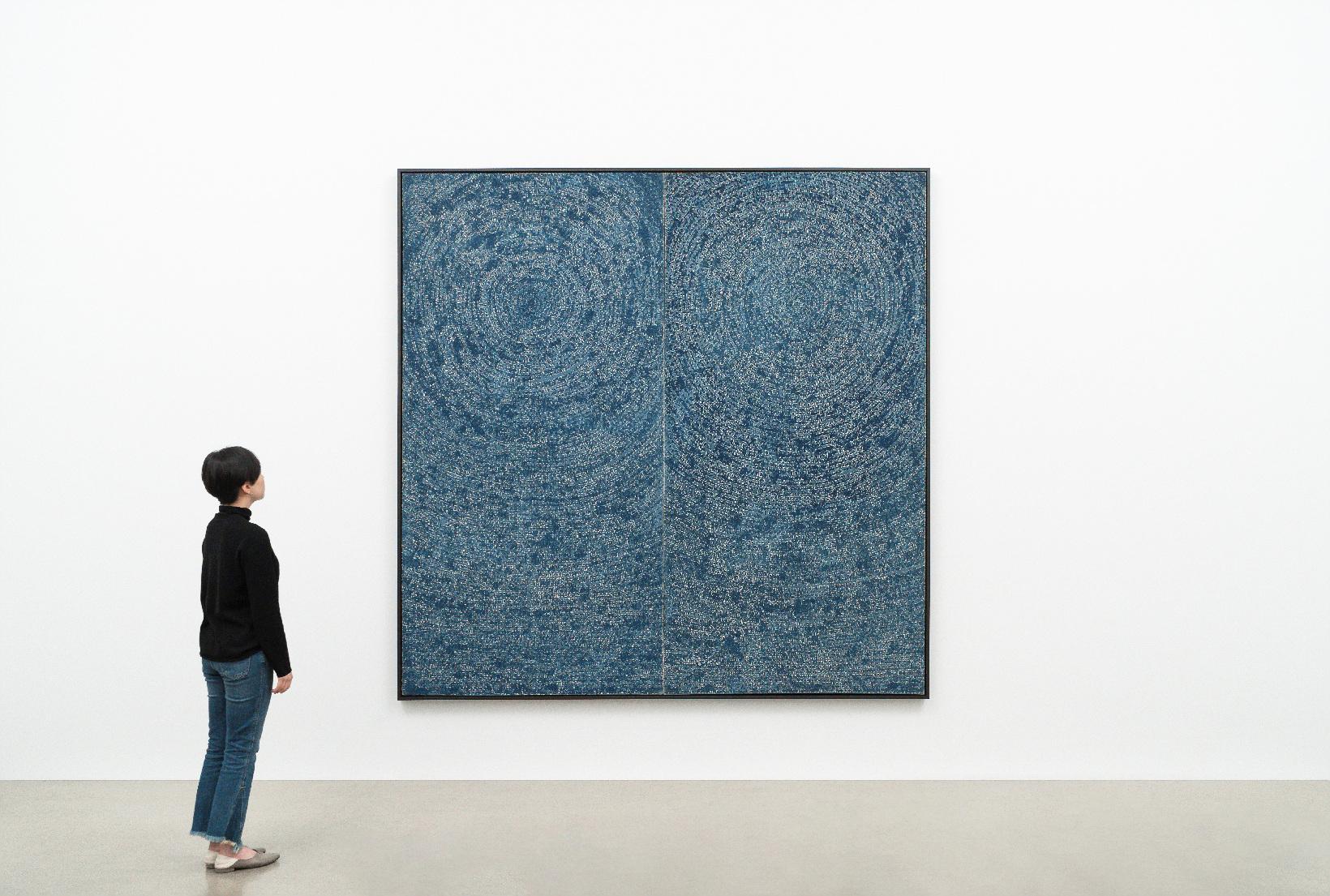 According to art historian Kim Hyeon-Suk, the reason that Kim's dot paintings so captivated the viewers were its "liberated energy." She further expounds:
Many people who look upon the dot paintings of Whanki Kim find themselves picturing the movement of infinite shimmering heavenly bodies may well be doing so because they instinctively sense the presence of the signs and symbols of the universe.

On the other hand, if these dot paintings were constructed entirely around symbolic form and meaning and nothing else, the true breadth of their artistic value would be severely undercut. If Whanki's dot paintings have the ability to engross their viewers, then this is the result of something like the splashed ink effect we see with sumi-e, and if viewers sense the scale of the universe at play, this is because of the countless signs of the universe — namely, the repetition of circles within squares and the resulting effect of amalgamation.

This is why, gazing into these works, the self becomes just another part of the universe, converging with it, and we see that the tiny dots are not still at all, and come to feel their diverging, drifting, liberated energy.3)
Aeri Song is an artist and exhibition manager at Gallery Hyundai.
---
1) Andrea Micodajuque, ARTS, October 1972. As quoted in Kim Whanki, the catalog of the Kim Whanki Retrospective Show at Gallery Hyundai in 1977.
2) Kim Hyang-An ⓒWhanki Foundation · Whanki Museum
3) Kim Hyeon-suk, "Suhwa Kim Whanki's Works On Paper (1967-73)", Works on Paper: 100 Years of Kim Whanki (Gallery Hyundai, 2013)